So How Close Are The Bucs?
January 10th, 2018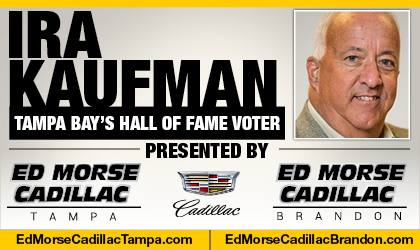 Ira Kaufman is the most revered sports personality and writer in town. He has hung his hat at JoeBucsFan.com world headquarters since July 2016. Tampa Bay's only Pro Football Hall of Fame voter, Ira busts out columns here every Monday, Wednesday and Friday, and his award winning podcasts fire Tuesdays and Thursdays. You can also hear Ira every Wednesday on SiriusXM Mad Dog Radio at 5 p.m.
BY IRA KAUFMAN
Just how close are they?
According to the scoreboard, the Bucs are close. Real close.
According to the eyeball test and the depth chart, they have a huge challenge ahead to compete with the big boys in the NFL's premier division.
Somewhere between the fall of 2016 and the summer of 2017, Tampa Bay lost its mojo and forgot how to win. That's how you go from 9-7 to 5-11 in a league where more than half the games are decided by 7 points or fewer.
In Dirk Koetter's first season as an NFL head coach, the Bucs went 6-4 in games decided by 8 points or fewer. That was the best mark in the NFC South. They were 3-0 in games decided by 3 points or fewer, the best mark in the NFC South.
But when the calendar flipped, the Bucs flipped the script, going 1-4 last season in games decided by 3 points or fewer and 3-7 when the final margin was 8 points or fewer.
When games were on the line, the 2017 Bucs repeatedly came up short.
Add in a few awful opening halves in Minnesota, Arizona and New Orleans and you're left with the feeling there's a lot of work to do in the offseason.
Spotty Roster
Suddenly, there are holes everywhere you look. Except for linebacker and Jameis Winston's targets, these Bucs need a lot of help. And if Brent Grimes retires or moves on as a free agent, the cornerback spot looks particularly vulnerable.
But this is the NFL, where fortunes can turn at the drop of a free agent or an impact rookie. Just look at the Saints, who went 7-9 three consecutive years before Alvin Kamara and Marshon Lattimore led the way for a division crown.
All four NFC division winners were new this season. The Eagles, Vikings, Saints and Rams combined for a 26-38 mark in 2016 and the Bucs will enter next season with diminished expectations.
"We lost so many close games this year," says Evan Smith. "My message to our fans is to stick with this group because we have a lot of talent on the team. It's a tough division, but we're close, a lot closer than a lot of people think."
None of this year's NFC division winners boasted a winning record the previous season. That unpredictable element from year to year gives hope for NFL outposts from Buffalo to Chicago that this could be a breakthrough season.
Meaningful Finish
Keeping hope alive remains challenging in Tampa, where the Bucs have occupied the division basement so often they should be charged rent.
I'm not a big believer in momentum carrying over from one season to the next, but that Jameis Winston touchdown pass to Chris Godwin against the Saints raised the excitement level within the walls of One Buc Place.
"It would have left a really bad taste to go into the offseason with six straight losses," says Cameron Brate. "That would have sucked. We're definitely motivated going into next season to prove this is the team we are. We're right there."