Gambling On Kenny Vaccaro?
January 30th, 2018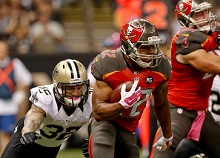 The Bucs could use help and depth at safety, and it's a very safe bet Tampa Bay won't be drafting another safety like it did in the second round last year.
Keith Tandy? After a great close to the 2016 season, four interceptions in five games and a clear command of his responsibilities, Tandy was effectively benched by Mike Smith in 2017. Keep in mind Tandy got all the starter reps through spring practices.
Durable Tandy, known for his work ethic, turns 29 in a couple of weeks and his contract expires in March. Joe has to believe Tandy will explore the free agent market and find a taker for his services, which include being solid on special teams.
T.J. Ward? He was a total bust signing in September. He'll be gone, mound of weed and all.
That leaves Evans and fan favorite Chris Conte at safety.
The free agency dinner bell rings in six weeks and Joe is intrigued by 2013 Saints first-round pick Kenny Vaccaro. Vaccaro battled a groin injury most of this season and finished on injured reserve. But the talent is there and he had three picks last season in 12 starts for New Orleans.
The following is from Kevin Patra at NFL.com back in December:
The Saints are deep at safety with Vonn Bell and rookie Marcus Williams. Chris Banjo and Rafael Bush are also options to rotate at the position. Corner P.J. Williams could be in line for more snaps against three-receiver sets, where Vaccaro often dropped to cover the slot.

Heading into free agency, Vaccaro had an up-and-down season while battling through injury. His versatility allowed the Saints flexibility, and for stretches he made plays — especially against the run — earning a career-high three interceptions. At other times, the safety played poorly against the pass this season and was benched in a Week 2 loss versus the Patriots. His play dropped off noticeably after the groin injury struck in early November.
Vaccaro seems like a classic case of a young guy (27) who will sign a one-year, prove-it contract, typical of players coming off injury who expect to score a bigger payday after that prove-it year.
Joe likes that Vaccaro is a willing hitter and a good blitzer, something the Bucs don't seem to have any longer.
If he's healthy and willing to compete, then Joe would welcome Vaccaro with open arms.