Ryan Leaf & The Bucs
January 30th, 2018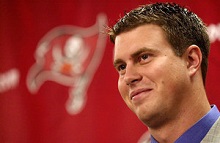 A neat piece of Bucs history was shared at the Super Bowl this morning.
Remember historic bust quarterback Ryan Leaf, the No. 2 overall pick in the 1998 draft? It's easy to remember Leaf, considering he's had so many legal and drug-related troubles since his career ended abruptly at 26 years old.
Well, Joe had forgotten that Leaf was with the Buccaneers in 2001, Father Dungy's final season in command.
Reports had said the Bucs demoted and then released Leaf after a nothing-special preseason. But today on WDAE-AM 620, Leaf said he loved Tampa, enjoyed the welcoming embraces from Dungy, Shelton Quarles, Derrick Brooks and Ronde Barber and probably should have stayed in Tampa. Leaf fondly recalled a house in Lutz and said he asked for his Bucs release because his ego at the time wouldn't allow him to be a backup quarterback.
He moved on to a bad Dallas team that season and made three starts, losing them all before ending his career.
Joe's not saying Leaf would have thrived in Tampa, but Joe wouldn't have bet against Dungy and the Bucs' powerful leadership possibly helping Leaf get on the right path.
Man, imagine if Leaf stuck around and was here for notorious quarterback collector Chucky. Who knows what Bucs history might look like after that?