McCoy Fires Opening Salvo At Free Agency
January 29th, 2018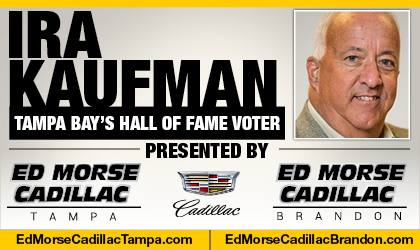 BY IRA KAUFMAN
Gerald McCoy has spoken his piece, loud and clear. He wants new bodies, and he wants them now.
Tampa Bay's longest-tenured defensive player transformed his week in Orlando for the Pro Bowl into a cry for help.
McCoy openly lobbied for the Bucs to pursue Michael Bennett and Aqib Talib — and you can bet Jason Licht took notice.
Eight years of diligent service without a postseason berth to show for it will make a man lower the curtain on his frustrations. And while McCoy knows Talib is still a member of the Broncos, and the Seahawks still own Bennett's services, he has fired an opening salvo in what promises to be an eventful offseason for Licht and Dirk Koetter.
The Bucs have plenty of cap space, but the harsh truth of the matter is free agency looks lean in the areas of greatest need. The Cowboys aren't about to let DeMarcus Lawrence test the market after he registered 14 1/2 of their 38 sacks last season.
And does anybody truly believe the Steelers are willing to see Le'Veon Bell ease on down the road?
C'mon, man.
Baggage Claim
McCoy singled out Talib and Bennett in part because he played with both as fellow Buccaneers.
After four years in Tampa, Bennett signed with Seattle as a free agent in 2013. Talib was traded to New England midway through the 2012 season with one game remaining on a four-game suspension imposed by the NFL for violating the league's policy on performance-enhancing substances.
Although Bennett is 32 and Talib turns 32 next month, both guys can still play at a high level. Bennett has been one of the key contributors on a nasty Seattle defense while Talib, since 2008, tops all corners with 34 interceptions, one more than Brent Grimes in that span.
"Every year I've been here Aqib's played tremendously well for us against a lot of the No. 1 receivers from the other team," says Broncos defensive coordinator Joe Woods. "I feel like he still plays at that level, but when you get older, it's a little bit harder to recover and he's a veteran that is at that stage in his career."
It's not unrealistic to suggest the Broncos will release Talib in an effort to pocket $11 million. The Seahawks could save $5.5 million by cutting Bennett after June 1.
On paper, these look like serious upgrades for the NFL's most porous defense.
Not so fast, Stick Carriers. These guys carry some serious baggage.
Highly Flammable 
Talib is a knucklehead, plain and simple. When his pro career ends, he will be known for two things: his dazzling knack for returning interceptions for touchdowns and his habit of losing his cool and getting into trouble.
Bennett is quite a character — smart, sensitive and polarizing. He has been a big supporter of Colin Kaepernick and his assertion that he was victimized by an overzealous cop outside a casino last August has been challenged by the Las Vegas police department.
This spring, Bennett is scheduled to co-write a book entitled: "Things That Make White People Uncomfortable."
Is the Buc locker room strong enough to handle these two huge personalities?
"We've got a great room," insists Lavonte David. "Everybody loves each other like a brother."
The Bucs need a serious injection of talent. That's a fact of life, like ice, like fire and like Miko Grimes' Twitter account.
But be careful what you wish for, Mr. McCoy.
Mess with chemistry too much and you can go kaboom.
Ira Kaufman is the most revered sports personality and writer in town. He has hung his hat at JoeBucsFan.com world headquarters since July 2016. Tampa Bay's only Pro Football Hall of Fame voter, Ira busts out columns here every Monday, Wednesday and Friday, and his award winning podcasts fire Tuesdays and Thursdays. You can also hear Ira every Wednesday on SiriusXM Mad Dog Radio at 5 p.m., and see him Mondays and Fridays at 10:30 p.m. on Spectrum Sports 360.