TV Map For Bucs-Packers
December 2nd, 2017
This is a new one for Joe.
Find out below where the Bucs-Packers telecast can be found in the continental United States without the need for NFL Sunday Ticket or a bar. Not just that, but some of our international friends will be able to watch the game free both north and south of the borders.
The Bucs head to Cheesehead country where Joe will be at Lambeau Field. Kickoff is 1 p.m. in Green Bay. Basically, if you live outside the Sunshine State, Wisconsin, Indiana and parts of Michigan, you will need to bolt to your local watering hole or have NFL Sunday Ticket.
But here is the new twist Joe hasn't seen before.
For some reason, along parts of the Mexican border in Texas, and in Michigan's upper peninsula, the game will also be broadcast on FOX local affiliates. So those nearby in Canada and Mexico, they too will be able to watch the Bucs free.
If anyone from Canada or Mexico lives near the green-shaded regions close to the borders, please let Joe know.
Tim Brando and former Packers great Greg Jennings will call the game for FOX.
As always, this FOX NFL map for Sunday's games is courtesy of 506sports.com.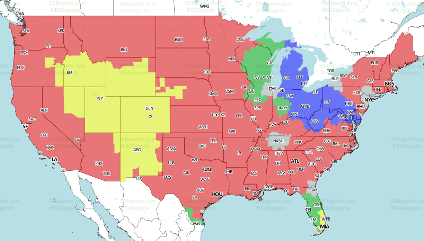 Green: Tampa Bay @ Green Bay
Blue: Detroit @ Baltimore
Red: Minnesota @ Atlanta
Yellow: Denver @ Miami
Gray: No game due to local team at home on CBS.