Examining Koetter Referencing Dealing With "People That Are Trying To Tear Your Team Apart"
December 2nd, 2017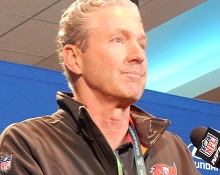 Joe has wrestled with this one for a week and is finally typing it up.
Dirk Koetter says he believes people are trying to implode his team he is challenged by the task of dealing with them calmly.
It was an eye-opener eight days ago with Koetter answered a question about what surprised him about being an NFL head coach.
Here's the verbatim exchange on the Buccaneers Radio Network:
Host Casey Phillips reading a fan question: What was something that surprised you about being a head coach? You got about one minute.

Dirk Koetter: Oh, one minute's not enough, Casey. I don't know if I could [answer quickly], there's new stuff every day. You can't predict what's going to happen. There's always going to be stuff that comes up every day that needs your attention, or that demands your attention. And you just got to be ready for anything. And you got to keep a level head, you know, not let people that are trying to tear your team apart to get under your skin, which isn't always easy.
So Joe has been wondering, to whom was Koetter referring?
It's a bit of a troubling statement from the coach. So Joe's going to dive in and speculate.
MEDIA – From Day 1 of his regime, Koetter was barraged by national claims that he might have orchestrated a coup to overthrow Lovie Smith and score the head coaching gig following the 2015 season. It upset Koetter deeply. He considered himself a loyal soldier to Lovie and a loyal person who simply wouldn't do something like that. Joe always thought the speculation was ludicrous, primarily because Lovie clearly was a bad head coach running a brutal defense he had taken over personally. Lovie earned his fate.
Also, Koetter's Bucs have endured assaults from local media, including the February hit job on America's Quarterback, Jameis Winston, by the Tampa Bay Times. 
For weeks recently, Bucs beat writer Scott Reynolds has been pounding a loud drum for a Jon Gruden return to coach the Bucs, including calling Koetter "very standoffish with the media." Frankly, Joe finds Koetter the opposite of standoffish with media. This isn't Girl Scouts. Koetter answers questions directly and is approachable and communicative. Heck, the guy invited Joe to have a beer in his office recently. What more is Koetter supposed to do, host a media barbecue, hand out Halloween candy to reporters, and stroke the collective media throng's inflated egos?
Koetter's recent radio take also came just a few days after the BuzzFeed detailed report that accused America's Quarterback, Jameis Winston, of being a felonious crotch-grabber. So perhaps he was reeling a bit from that shock.
JAMEIS – Jameis isn't trying to tear the Bucs apart. But what about his handlers? Did they advise him not to report the Uber crotch-grabbing allegation to the Buccaneers? The reality is Koetter was blindsided. Jameis, like any other player, is supposed to report any potentially suspect activity to the team immediately. So maybe Koetter feels Jameis is getting some me-first advice, which in turn is a force detrimental to the team.
Why exactly isn't Jameis publicly naming the alleged third passenger in the Uber vehicle? That isn't helping Jameis appear innocent to his teammates and fans, and that reality helps tear the team apart.
Just read Jameis' public statement after the allegation. What a train wreck mess that was/is for a variety of reasons. Koetter may realize that he's fighting against a PR nightmare that doesn't have to be.
JON GRUDEN – Sorry, Chucky fans, but Joe has little respect for Chucky not going out of his way to say he supports Dirk Koetter as head coach of the Buccaneers. That should have been Chucky's public response the minute rumors started swirling that he'd take over for Koetter in January. Weak and classless, Chucky.
Koetter was very welcoming to Chucky at training camp, let him address the team, and we all saw more of Koetter's hospitality on Hard Knocks. Meanwhile, Chucky lives in Tampa, knows all about the rumors of him coaching the Bucs and won't do a damn thing to quash them publicly.
Joe doesn't care what Chucky may be working behind the scenes with Team Glazer, but have enough class to put up the appropriate public front, one that wouldn't help, you know, "tear your team apart."
*Joe could write a heck of a lot more about what Koetter might have been thinking when he referenced dealing with people trying to tear the team apart. Heck, there could be so many forces at play, which happens when a team struggles mightily. But Joe's just going to cut it off here.
Hopefully, Koetter and the Bucs win games through their final five games this season. Winning is the best counter to any negative force.