Swaggy Responds
December 27th, 2017
Apparently, offsides-jumping, belly shirt-wearing, practice-hating, kicker-heckling, tree-grinding , non-contact-football-loving, chicken-wings-grilling, playing-time-squawking, TV-cooking-star, half-sack Swaggy Baker has been on social media last night and has seen his name being dragged through the mud.
As was reported by Rick Stroud of the Tampa Bay Times, allegedly it was Swaggy Baker who sparked the postgame hassle between players in the locker room at Carolina Sunday.
In the report, Stroud noted that America's Quarterback, Jameis Winston, was about to go after Swaggy and that Kwon Alexander was also involved. As we all saw, Swaggy had a critical offsides penalty on a fourth down during the Stinking Panthers game-winning drive, this after Gerald McCoy ordered Swaggy to watch the ball and not jump offsides. Stroud's report suggests Swaggy had no remorse — even smiled — about the penalty which enraged the locker room.
Well, Swaggy offered up a defense on Twitter and he will have you know he is no cancer.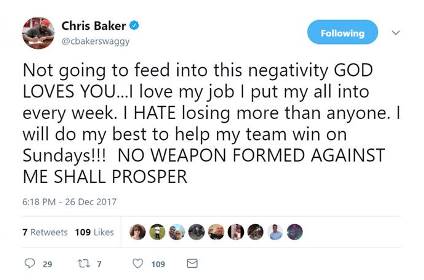 It reads good but at this point, Joe would be shocked if Swaggy returns in 2018. Swaggy's Twitter looks to Joe as nothing more than damage control praying the Bucs don't cut him so he can keep his $4,875,000 salary for 2018, which he sure as hell won't get anywhere else.
If, in the dark corners or men's room stalls of One Buc Palace, Team Glazer has already informed Bucs AC/DC-loving general manager Jason Licht that he is indeed returning for 2018, Licht should just do the right thing: deactivate Swaggy for Sunday's game with New Orleans and give Swaggy his parting gifts (sort of what the Bucs did with Anthony Collins in the final weeks of the 2014 season: go home and don't come back).
For those curious, the guaranteed portion of Swaggy's contract expires when the 2017 league year ends. He'll get another guaranteed $3 million from the Bucs if he's on the roster March 18, 2018.