"Poor Ryan Smith"
December 17th, 2017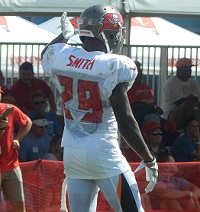 A popular Bucs punching bag this season got a strong defense from a popular ex-Buccaneer.
You've seen the Tampa Bay pass rush (what pass rush?). So has Ian Beckles, a Bucs guard from the 1990-1996. He's appalled.
In addition to believing Chris Baker is "stealing" from Team Glazer, Beckles is down on the rest of the bunch, and he believes too many fans are taking it out Ryan Smith. It's Smith's first season at cornerback in the NFL, and the 24-year-old, 2016 fourth-round pick.
"Poor Ryan Smith, the young kid. He's out there and he has to defend three different moves on a wide receiver, and you wonder why he's holding him. You can't stop a receiver from making three moves. No way. There's no pass rush out there," Beckles said on his In The Trenches podcast last week.
Joe agrees in principle. Jason Licht, Dirk Koetter and Mike Smith never should have banked on Ryan Smith as their backup outside cornerback this season, not for a team with playoff aspirations.
It's not Smith's fault that he's further exposed by the brutal pass rush. And it's also not his fault the braintrust didn't have him at cornerback last year. Fans should stop beating down on Smith, who has improved as the season has progressed.
Not much should be expected of the guy. Think cornerback E.J. Biggers, who had a nice three-team, seven-year career after he was a seventh-round pick of the Bucs in 2009.