Not Since Dunn & Alstott
December 21st, 2017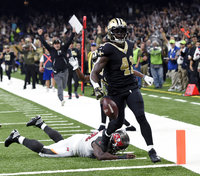 A high Buccaneers honor was equaled this week, one that amplified one of the great Tampa Bay screwups of this offseason.
CBS Sports reported that Saints rookie running back Alvin Kamara and veteran RB Mark Ingram are the first backfield tandem to be named Pro Bowlers in the same season since Warrick Dunn and Mike Alstott during the 1997 campaign. Those Bucs icons joined Barry Sanders and Dorsey Levens on Pro Bowl squad.
It's pretty cool that the Alstott and Dunn mark hung in there for 20 years.
Kamara, a third-round pick, and Ingram have combined for more than 2,800 yards from scrimmage this season. The Saints lead the NFL in rushing touchdowns and have the No. 1-ranked offense. It's no wonder Sean Peyton cut Adrian Peterson the minute he realized Kamara is the real deal.
Kamara was the fifth running back off the board in the 2017 draft. The RB taken after him was Pro Bowler Kareem Hunt. Three of the four running backs taken ahead of him were major contributors for teams marching toward the playoffs.
The Bucs were desperate for a running back in the draft, though they didn't make it happen and foolishly believed Doug Martin would be a different player than he was in 2016.
Now the Bucs are back to Square 1 on the running back front, aching for a beast in the backfield and trying to develop a running game that compares to the punishing ones in the NFC South.