Lions Beat Writer Calls BS On Dirk Koetter
December 7th, 2017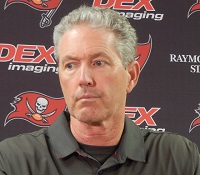 Tampa Bay squares off against a familiar face Sunday, a guy who's nearly always smiling ear to ear but for some reason is carrying bitterness in his heart for some Buccaneers.
Joe's talking about 26-year-old Akeem Spence, a 2013 fourth-round pick of Tampa Bay, a grinding and average nose tackle the Bucs let walk in free agency — before sprinting to the Team Glazer vault to pay Chris "Swaggy" Baker.
Various reports out of Detroit quoted Spence this week as a guy who wanted to return to the Bucs but was tossed aside.
Ok. Nothing unique there. A team wants to move on from a nothing-special but productive player and the guy is hurt. But what really intrigued Joe is that Detroit News beat writer Justin Rogers called BS on Dirk Koetter after talking to him and Spence.
"Yeah, Akeem's playing good football," Tampa Bay coach Dirk Koetter said. "And he's a guy that we hated to lose, but the way the rules are set up he had a chance to exercise his options as a free agent and he's doing a nice job. He plays with really good leverage, excellent quickness and he's got that low center of gravity, so he's a powerful player. If you're not ready, you'll get knocked backwards."

But Koetter's comments about losing Spence come across as disingenuous when he couldn't recall how much effort the team put into re-signing the defender. Spence was asked how he remembered the negotiations.

"If he doesn't remember, I don't remember," he said. "It is what it is. They're going to have to deal with this whole D-line, but especially me. I've had this one circled for a long a time.

"I can't really say what I want to say, but just know, this one is kind of personal."
So was Koetter "disingenuous" when he said the Bucs hated to lose Spence? Joe highly doubts it.
Spence probably got a low-ball offer from Tampa Bay and was stunned — and then was further stunned when multiple teams wanted him and Detroit was willing to pay him $3.75 million this year.
Also, Koetter isn't involved in contract negotiations, though he somehow seemed certain the Bucs didn't have "$17 million laying around" for free agent manbeast Calais Campbell. Campbell (12.5 sacks this season) only cost $15 million per year and the Bucs did have the cash available, so that should be enough evidence that Koetter doesn't stay close to the money side of personnel dealings.
Spence has 1.5 sacks, one forced fumble and 24 combined tackles this year in 12 games. He's made seven starts and primarily has been a rotational player.