Koetter Talks 3-4 Defensive Transition
December 2nd, 2017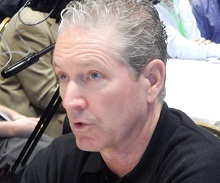 Lots of Tampa Bay fans wanted or expected to see more 3-4 defense this season.
It hasn't happened for various reasons.
The most likely reason is the Bucs don't have the personnel. Of course, one could argue that as the worst-ranked NFL defense, they don't have the personnel to run their current 4-3, but that's a whole different story.
On the Buccaneers Radio Network yesterday, Dirk Koetter was asked what defense he would run if he could run his ideal NFL team right now.
Koetter said he's go with a hybrid 4-3/3-4 defense.
But he did add that switching to a full 3-4 defense would take years to do it right.
"If you haven't drafted that way, if you've drafted toward defensive ends, I think there'd be a two- or three-year transition to get the right number of guys at the right spots" for a 3-4," Koetter said.
Joe agrees with Koetter. And it would take significant time for most teams. Not every club can pull stud coordinator Wade Phillips off the street, a potential Hall of Fame coordinator who is a master at quickly teaching his 3-4, like he has this season with Rams.
Also, it's helped Phillips immensely to have versatile star linebacker like Mark Barron to lead his unit in tackles. (Ouch!)
It'll be interesting to see how the Bucs approach the 2018 draft as it relates reloading their defense, which is aching for more defensive tackle and defensive end talent.