Ira Kaufman's Week 13 Picks Against The Spread
December 2nd, 2017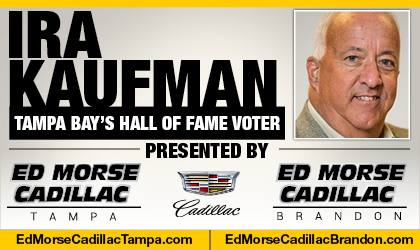 Joe has challenged Ira Kaufman, Tampa Bay's only Hall of Fame voter, to pick against the spread this season for a $500 prize. Every Friday, Ira types out his picks for each Sunday and Monday game. If Ira hits at 53 percent or better for the regular season, then he gets $500 in gift cards to Abe's Place in Clearwater, home of historically amazing food and 44 craft beers on tap. Feel free to send Ira your stone cold locks on Twitter, @ikaufman76. The sage of Tampa Bay sports always appreciates a tip.
BY IRA KAUFMAN
At this point, a 6-6 record against the spread is enough to touch off a celebration around the Christmas tree.
Dim the lights and Riesling for everyone.
Last week's .500 mark offered some stabilization toward the end of a lost season. My overall record of 62-93 remains an eyesore, but there are still five weekends remaining to build some momentum for 2018.
RAVENS minus-3 vs. LIONS. Baltimore's stout defense will present some problems for Matt Stafford and the Ravens sniff an AFC Wild Card spot up for grabs.
BEARS minus-3 vs.49ERS. Chicago has turned in some decent efforts at Soldier Field and the 49ers simply don't know how to win at this point.
VIKINGS plus-3 at FALCONS. Matt Ryan stood tall against the Bucs, but Minnesota brings the heat and Case Keenum is playing at a Pro Bowl level.
PATRIOTS minus 8 1-2 at BILLS. Here we are again, waiting for the Bills to win a big game in December. Keep waiting, because Tom Brady is determined to squelch Buffalo's playoff hopes.
DOLPHINS plus 1 1-2 vs. BRONCOS. Two teams in free fall meet at Hard Rock Stadium, where the bleeding has to stop for two forlorn franchises.
TITANS minus-7 vs. TEXANS. Tennessee can't afford to slip up Sunday as the Titans try to keep pace with the Jaguars atop the AFC South. It's time for Marcus Mariota to step up.
JAGUARS minus 9 1-2 vs. COLTS. Indy doesn't have enough weapons to test the NFL's best defense. Jacksonville should rebound from last week's bitter setback at Arizona.
PACKERS minus-2 vs. BUCS. Tampa Bay is going into Lambeau short-handed while the Packers still believe they can make a playoff run if Aaron Rodgers returns in a few weeks.
JETS plus 3 1-2 vs. CHIEFS. Andy Reid has run out of answers in Kansas City, where Kareem Hunt has been stifled and Alex Smith has plunged back to Earth.
SAINTS minus 4 1-2 vs. PANTHERS. With first place in the NFC South at stake, I'm going with Drew Brees to make enough plays against one of the league's better defenses.
CHARGERS minus-14 vs. BROWNS. This is a big spread to cover, but the Chargers are roaring back from a dismal start and the Browns are running out of time to avoid an 0-16 slate.
RAMS minus-7 at CARDINALS. Arizona is a funky team that can spring an upset at home, but the Rams are solid in all areas and Jared Goff has answered any remaining skeptics.
GIANTS plus 8 1-2 at RAIDERS. Oakland doesn't deserve to be a prohibitive favorite against anyone and it will be interesting to see how the Giants respond after one of the most tumultuous weeks in franchise history.
SEAHAWKS plus-6 vs. EAGLES. Philly is on a serious roll, trouncing opponents with physicality and precision. The Seahawks answer with Russell Wilson, who usually finds a way at home.
BENGALS plus 5 1-2 vs. STEELERS. Cincinnati is playing well and Joe Mixon is starting to strut his skills. Pittsburgh's defense didn't look particularly impressive against Green Bay.
Ira Kaufman is the most beloved, revered and esteemed Buccaneers columnist in town. He has hung his hat at JoeBucsFan.com world headquarters since July 2016. Tampa Bay's only Pro Football Hall of Fame voter, Ira busts out columns here every Monday, Wednesday and Friday, and his award winning podcasts fire Tuesdays and Thursdays. You can also see Ira every football Sunday at 10:30 a.m. on FOX-13, Scott Smith's Tailgate Sunday.