Is Koetter (Are Players?) Feeling The Presssure
December 25th, 2017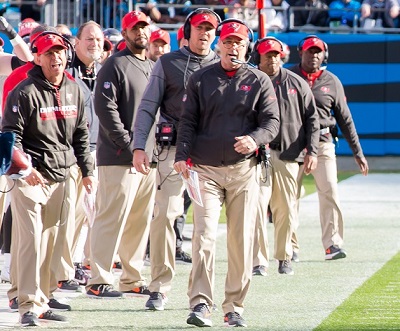 As Joe wrote last night, the primary reason Joe went to the Bucs game in Charlotte yesterday was to dig up as much as possible on the Bucs' uncertain coaching situation.
It certainly wasn't for the second-rate press box food. (Nobody lays out a feeding frenzy like Team Glazer in Tampa).
Some of that is on the record; most was off the record. Sorry, but that's just the reality of getting information. Joe's not going to get unvarnished truth, in most cases, for publication here.
Joe also set out to find out whether Dirk Koetter is crumbling/changing/panicking in the face of all this losing.
And are Bucs players getting distracted by the steady whispers?
It was yet another Sunday with NFL Network dropping chatter about Chucky coaching the Buccaneers in a handful of days. This time it was Chucky reaching out to potential assistant coaches and wanting his return to be in Tampa.
Joe talked to several players about whether they picked up on that Sunday morning noise and whether it was circulating around the locker room.
Most said, No. Some said yes, but it's routinely ignored. On the latter, Cameron Brate said he and players hear the noise but the offense is so confident and so locked in with Koetter that they just follow his lead on tuning out any kind of chatter from the outside.
Others in the postgame locker told Joe it was the first they heard of any new speculation on coaching change in Tampa. (Joe thought it was cool when Clinton McDonald said he's old school and just has a very simple routine on game day: wake up, pray, eat and focus on the game.)
Center Joe Hawley, who also played several years under Koetter in Atlanta, said Koetter is holding up under the noise and losing as well as could be expected.
"We're the best 4-11 team I've been around, but that's not anything you want to be. Coach has been very consistent through all this. Very consistent [in his approach]. But nobody's good with this," Hawley said. "This is very competitive group and that includes the coaches."