Hire Derrick Brooks Immediately
December 25th, 2017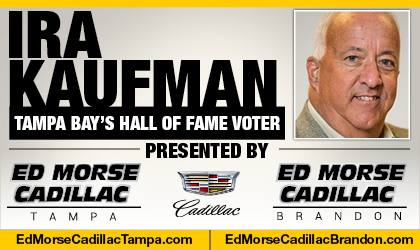 BY IRA KAUFMAN
The Glazers need to do the right thing and bring back the man they fired in 2009, a Buc icon who can help lead them back to relevance.
Put down your Chucky dolls for a minute, people … I'm talking Derrick Brooks here.
In the spirit of giving, I'm offering ownership some sage advice. Mr. Brooks, also known as The Godfather around these parts, needs to be made an offer he can't refuse.
Since 2011, Brooks served as part-owner and team president of the Tampa Bay Storm, which ceased operations last week. He's been an appeals officer for the NFL the past four seasons.
It's time to shake things up in the front office at One Buc Place, regardless of who roams the sidelines in 2018.
Do you think for one minute that Jon Gruden would have an objection with Brooks being part of the solution for a franchise that has lost its way?
No way.
Versatile Fit
I watched Brooks closely during Gruden's Ring of Honor ceremony last week and nobody on the field was more excited than No. 55, a first-ballot Hall of Famer who was wearing his gold jacket.
Brooks will always be tight with Tony Dungy, but Brooks didn't win a Super Bowl ring until Gruden challenged the 2002 defense to be historic.
And guess who responded with a season for the ages, capped by an NFL Defensive Player of the Year award? Our Mr. Brooks.
There is great respect between Chucky and The Don, who was released on orders from the top in a veteran purge that also claimed Joey Galloway, Ike Hilliard, Warrick Dunn and Cato June only a week after Gruden was canned.
Although he hasn't played in a decade, Brooks is still treated with reverence by today's stars. You think his presence in the organization couldn't sway a big-time free agent to sign here instead of in Chicago?
And don't forget about his special relationship with a young quarterback the Bucs have built around.
Yes, Jameis Winston and Brooks have forged a strong bond stretching from Tallahassee to Tampa. Winston's development into an elite player is Job 1 at One Buc Place and Brooks can be a big help in that regard.
If Dirk Koetter is retained as head coach for a third season, Brooks can still be a key player in a turnaround that is long past due.
"Blind Leading The Blind"
Brooks won't accept a token role. He doesn't need the money and he's got too much pride to collect a paycheck he doesn't earn.
He takes his Ring of Honor recognition very seriously and Brooks still bleeds pewter. It's been tough for him to see Buc fans turning to draft analysis in December rather than gearing up for a playoff run.
He sees a half-empty stadium and he remembers the glory days when Tampa Bay stars roamed the earth around Dale Mabry. He yearns for the close ties between organization and community that led to packed houses on fall Sundays.
The Bucs need another set of eyes in the building because right now, it's the blind leading the blind. Team president sounds about right.
Brooks won't overstep his bounds and supersede an assistant coach, but he'd be an invaluable resource in constructing game plans that would change every week.
There's got to be a place for one of the best players in league history, a man who will work hard to restore pride to a forlorn franchise.
Have yourselves a merry little Christmas, Buc fans, and hope Derrick Brooks slides down the chimney at One Buc Place, bearing gifts and dispensing wisdom.
Ira Kaufman is the most revered sports personality and writer in town. He has hung his hat at JoeBucsFan.com world headquarters since July 2016. Tampa Bay's only Pro Football Hall of Fame voter, Ira busts out columns here every Monday, Wednesday and Friday, and his award winning podcasts fire Tuesdays and Thursdays. You can also see Ira every football Sunday at 10:30 a.m. on FOX-13, Scott Smith's Tailgate Sunday, and catching him nationwide on SiriusXM Mad Dog Radio on Wednesdays at 5 p.m.