Jameis VIDEO: "I'm Tired Of Our Coach Giving Us Subliminal Messages"
December 31st, 2017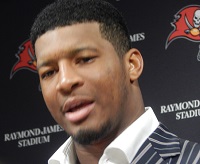 America's Quarterback, Jameis Winston, told quite a tale this evening that took fans inside the mind of Dirk Koetter over the past week.
Essentially, Jameis explained that after the tough Carolina loss last Sunday, the Bucs head coach gave the team a backhanded hint that his days are numbered.
"If you fight like that, next year, no matter who's here, you're going to do good," Jameis quoted Koetter.
That didn't sit well with Jameis, he said, and he talked to the team about fighting for Koetter. "I'm tired of our coach giving us subliminal messages. That's our coach. Let's get out there and get a win for him."
There's more in Joe's video below. Damn interesting that Koetter had that kind of mindset.