"Courage"
December 31st, 2017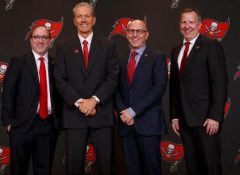 Dirk Koetter believes Team Glazer has a set a brass ones.
There are all kinds of examples of courage. There's a person who runs into a burning building to save someone. There is a Marine who jumps on a hand grenade to protect his brothers. There is the dude that hits on Rachel Watson even though he is way over-kicking his coverage.
And then there is Team Glazer, who decides to battle a wave of fan unrest and retain a suddenly unpopular coach.
That's the way Koetter saw it. In his postgame presser, Koetter was asked about his return for 2018 despite a 5-11 record, well below high expectations.
Koetter paused as he didn't feel the time was right to talk about him. He wanted the postgame questions focused on his players after a huge come-from-behind win on a spectacular touchdown pass from America's Quarterback, Pro Bowler Jameis Winston, to Chris Godwin.
Koetter did remark, "I am certainly appreciative to the Glazer family for every thing they have done for me, my family and all the things for the franchise to win. … It took a lot of courage for the Glazer family to bring me back, for the staff back, with the record what it is."
Koetter almost sounded like he was throwing himself under the bus, talking about how Team Glazer erected an indoor practice facility, which Koetter remarked was "beautiful" and an important piece to winning, as Koetter remarked how Team Glazer will do whatever is needed to help a coaching staff win.
We will find out next year if that courage pays off or not.