"Grateful To The Glazer Family"
December 29th, 2017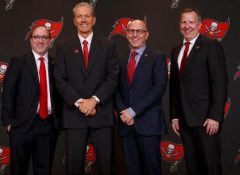 Bucs coach Dirk Koetter spoke about the news of his return for the 2018 season, albeit very briefly, during his regularly scheduled weekly sitdown with Casey Phillips heard late this afternoon on the Buccaneers Radio Network and through the official Bucs app.
The Friday afternoon show, which takes e-mails and phone calls from fans, didn't waste a whole lot of time before a caller congratulated Koetter on the news and also asked if he was going to flip to a 34-front defense and bring in a new defensive coordinator.
Koetter was tight-lipped about future plans and stated more about that will be discussed beginning Monday.
"I know there is a report out there; obviously I am very grateful to the Glazer family for their support," Koetter said. "But I think that anything further on my status and the status of the staff or on what we are going to do in the future should wait until after the game on Sunday.

"Right now, I can tell you wholeheartedly that all we are worried about right now is what is going to happen Sunday against New Orleans. … That's the God's honest truth.

"Everybody is evaluated at the end of the year including me. We will start that process come Monday."
And that is the key question, was Koetter retained in part, on an agreement with Team Glazer that changes to his staff must be made?
Guess we will find out next week.