"They Believe In Some Parts Of The Coaching Staff"
December 29th, 2017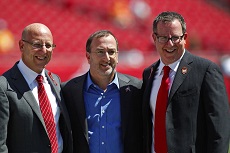 Very curious words from Ian Rapoport of the NFL Network.
In a piece he did on the NFL's house organ, Rapoport chose very interesting words about what to expect from the Bucs in the coming days now that it is known Dirk Koetter will be retained for the 2018 season.
On the reasons Team Glazer decided to keep Koetter, Rapoport offered the following.
"They believe in some parts of the coaching staff," Rapoport said.
That tells Joe changes are a-comin,' not that it should be a shock to anyone.
You can see Rapoport's full report below.
Dirk Koetter looks to be coming back in 2018.@RapSheet has the latest. ⬇️

📺: #UpToTheMinute pic.twitter.com/4xJUFdz6FK

— NFL Network (@nflnetwork) December 29, 2017