Fresh National Hot Seat Chatter
December 24th, 2017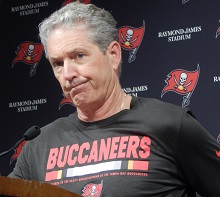 If Chucky indeed has Team Glazer's ear and is angling, along with his agent, to coach the Buccaneers, then who owns the leverage in the negotiations?
That likely depends how you view the performance of Dirk Koetter, and how much you think Team Glazer really yearns to bring back their Super Bowl coach. Keep in mind the last time Team Glazer reached back for a Glory Days-era coach, Lovie Smith, it blew up in their faces.
Koetter still has time in the next two games to alter the perception game.
Win or lose against Carolina and New Orleans, if the Bucs offense thrives with a healthy America's Quarterback, Jameis Winston, then Koetter instantly looks like a guy you want to keep around the blossoming franchise QB. That could change any negotiations with Chucky, who likely wants complete control of personnel and a contract that makes him the highest paid coach in the NFL.
NBC and ProFootballTalk.com ultimate insider Mike Florio addressed the Tampa Bay head coaching situation in the NBC video below. He believes Koetter still has time to save himself.
Enjoy!