With The Eighth Pick In The 2018 NFL Draft …
December 5th, 2017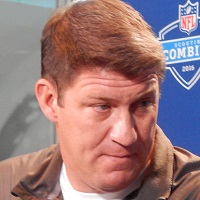 Your beloved Buccaneers are 4-8. It's officially time to talk NFL Draft. Ugh!
Yes, as you can see below, the Bucs have the No. 8 overall pick if the regular season ended today.
It doesn't, and Joe's not rooting for the Bucs to lose. When the whistle blows on Sunday against the Lions, Joe will be yearning for not just victory, but a dominant victory before the home crowd.
What's interesting about this year's draft order is that No. 8 overall likely is the best the Bucs can do. The teams with better picks than the Bucs are horrid.
The No. 7 overall pick owned by the Browns is the Texans' No. 1 overall pick. They, too, are 4-8 like Tampa Bay is. However, the Bucs lose the tiebreaker (for now) because they have a harder strength of schedule.
Maybe the Bucs can land the No. 7 overall pick by the end of the season, but that's probably their ceiling, or basement, depending on how you look at it. If the Bucs dare to win a couple more games this season, they'll probably be no worse than the 14th overall pick.
As for draft needs, the Bucs have many — too many.
Defensive end and cornerback appear to be priorities No. 1 and No. 1a. It would be quite a boon to Tampa Bay if Peyton Barber shows he can be consistently good and reliable this month. That relieve any pressure to snag a "franchise" running back.
Plenty of time for more intelligent draft talk after a full season of evaluating the roster and gauging its health. Yes, Joe hears the screams for a right and/or left tackle, but Joe has a yearning for a blue chip center. Lot of residual benefits with a pick like that.
Current 2018 NFL Draft order
1. Browns
2. Giants
3. 49ers
4. Broncos
5. Colts
6. Bears
7. Browns
8. Bucs
9. Bengals
10. Cardinals
11. Jets
12. Redskins
13. Dolphins
14. Chargers
15. Cowboys
16. Raiders
17. Lions
18. Bills
19. Packers
20. Falcons https://t.co/WA70ApiaZP

— Charlie Campbell (@DraftCampbell) December 5, 2017