Would Team Glazer Free Mike Smith For The New York Giants?
December 5th, 2017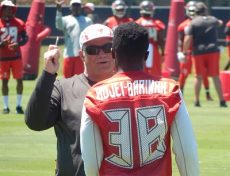 An esteemed Pro Football Hall of Fame voter from New York, Bob Glauber, has put Mike Smith on a list of likely potential candidates for the vacant Giants head coaching job.
Glauber, writing for Newsday, represents the Giants beat among the 48-person Hall of Fame selection committee. (For those unaware, JoeBucsFan.com columnist Ira Kaufman is the lone Tampa Bay area selector.)
The Giants fired head coach Ben McAdoo this week, and Glauber typed up a list of possible targets to replace him.
Smith was second on his list, which may or may not have been a coincidence.
• Mike Smith, Buccaneers defensive coordinator: Smith was a candidate in 2016 when the Giants settled on McAdoo. He enjoyed a solid career as the Falcons' head coach, finishing with a 66-46 career record. He becomes a more attractive possibility to the Giants if they're looking for someone with previous head-coaching experience to avoid the inevitable learning curve that comes with a first-time coach.
Yes, the Giants interviewed Smith but chose McAdoo. After getting fired by the Falcons, Smith sat out the 2015 season, wrote a book and spent a lot of time at NFL headquarters in New York consulting with the NFL in the area of officiating.
The Mara family, which owns the Giants, has a reputation for being a conservative organization that craves stability and experience. Maybe Smith, who Joe imagines was extremely impressive during the interview process, left an impression and fits their desired mold.
However, (and it's a giant however), Smith signed a fat new contract with the Bucs that prohibits him from seeking a head coaching job this offseason. That's how badly Team Glazer wanted to keep Smith, chieftain of the NFL's 31st-ranked defense. Bucs icon Derric Brooks and others loved the bold move and called it the biggest offseason signing of the year by ownership.
But might Team Glazer eagerly consider waving rights to Smith and let him interview for an HC gig anyway? Certainly they could. There's nothing stopping them; Smith surely wouldn't object.
Or maybe Team Glazer respects the job Smith has done this season and has every intention of clinging to him?
Interesting sailing ahead for Team Glazer.
For those wondering, Smith's .589 winning percentage with the Falcons ranks 42nd all-time among NFL coaches, just behind John Harbaugh (.590), Mike Holmgren (.591) and Pete Carroll (.593). Jon Gruden ranks 69th at .540.