Easy Out To Blow Up The D-Line In 2018
December 13th, 2017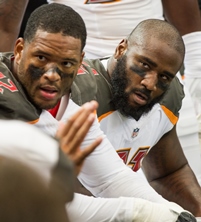 You know it's bad when Buccaneers fans are wondering what edge rushers like Tim Crowder, Stylez White and Howard Jones are up to these days.
(Jones, now with the Bears, sacked Andy Dalton on Sunday, in case you were wondering.)
The Tampa Bay defensive line is in shambles. They're an old, banged up and highly ineffective group overall. And the young guys aren't very good. And then there's Noah Spence and his chronic shoulder problem.
It's not pretty, but the future offers hope because the Bucs aren't locked in to contracts.
Will Gholston, Robert Ayers and Chris Baker can all get the boot without any financial/salary cap pain.
Per reliable Spotrac.com, the Bucs could cut Gholston before Day 5 of the NFL league year in March and not owe him a dime. After that, his 2018 salary of $6.5 million is fully guaranteed. Ayers is owed $1 million on the fifth day of the league year, and then he'd have to make the roster to get the remaining $5 million due him. But if Ayers is cut in early March, the Bucs can cleanly clear him off the cap and the payroll. Same thing with Baker, dump him before March and the Bucs are off the hook for the $4.87 million he'd earn in 2018.
That's about $17 million of 2018 salary! (Hmm, Dirk Koetter said the Bucs didn't have $17 million lying around.)
Now Joe knows Bucs fans are going to start screaming about Gholston. But Gholston has regressed as a pass rusher this season, which is hard to believe since he wasn't a good one anyway. Gholston is a tough guy, a hard worker and good against the run (he used to be great there), but Joe isn't seeing the value at his price tag.
Frankly, given the overall messy state of the Bucs' D-line, Joe would blow those three guys out in favor of new talent, draft picks and fresh energy. Perhaps there's a trade market for Gholston.
For the haters wondering, yes, the Bucs could boot Gerald McCoy's contract after this season with only a $500,000 salary cap penalty. However, not even the Bucs are that dumb.