The Morning After
November 6th, 2017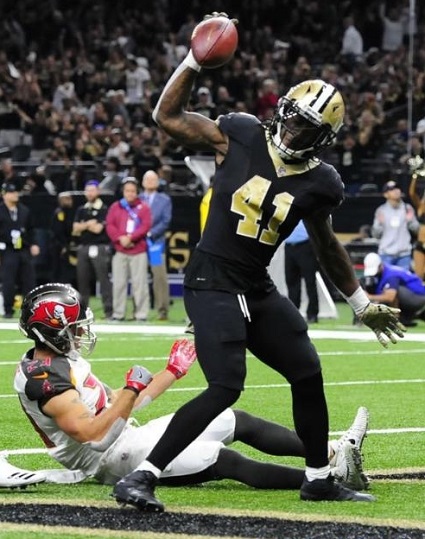 Joe has been up damn near all night and it has nothing to do with the barbeque shrimp and jambalaya he had at Mulate's last night.
1. Where to begin? Well, how about the Bucs themselves. The season is over. It's onto the draft as the Bucs are barrelling for a top-five pick. The way the team has played, no one working at One Buc Palace who doesn't go by the name of "Glazer" is safe today, nor should they be. This season is a total collapse of an organization. There have been massive mistakes on every level of football operations. So with the draft upcoming, it isn't so much about Bradley Chubb or Saquon Barkley or Harold Landry or Bryce Love, but who will be running the draft, and who will be coaching the draft picks and who will be the teammates of the rookies. Joe will not be shocked if there are sweeping changes to the entire organization. Should there be? Well, one can make an argument pro and con to keeping/unloading various folks. A lot will depend on how/if winning coach Dirk Koetter can somehow find a way out of this funk. It sure smells as if the team has tuned him out. Salvaging this season may result in him saving countless jobs. Right now, Joe doesn't see how the Bucs can retain defensive coordinator Mike Smith and it pains Joe to type that because Smith is a total class act. Take away six or seven games among the 24 he has been defensive coordinator, and Smith's defenses have been horrid. And how can anyone believe this will not continue if he is retained? There is enough evidence of players already fed up with Smith or bristling at his gameplans and rotations. That's what Joe knows from public comments without taking into consideration the boiling below the surface in the locker room with players who have kept their fingers off their phones and away from social media. The fact in recent days the term "communication" has resurfaced as the root of the problem with the defense is damning for Smith. Wasn't this to have been repaired midseason last year? And if so, why has it cropped up again? Maybe the communication problem, vague though that term may be, begins at the desk of the defensive coordinator?
2. One reason the Bucs brought in former commander Greg Schiano was to clean up the locker room. And he did do that, at a pretty big cost, including to his own career. Last year, winning Bucs coach Dirk Koetter mentioned a losing culture and he brought the subject up again Friday. Joe has spoken to several players, mostly on the record, and Joe is hearing stuff that reveals a massive attitude issue with the Bucs. Whether they have tuned out the coaches, Joe isn't sure, but the trash we see on the field definitely suggests that. Joe has heard too many sour things about attitudes and lack of motivation and preparation; there is either a sect of players or several individuals who just don't give a damn. They will do their own thing and wins don't mean s(p)it so long as Team Glazer's checks clear. Just go read Joe's articles with fan favorite Chris Conte and running back Doug Martin to get an idea what Joe is talking about here. And those are just two players Joe has spoken to that have mentioned internal issues.
3. Here are some things Joe is hearing from players — mostly team-crafted clichés — and how Joe defines them.
Haven't found our identity: They want to run the ball and they can't. They are built to pass but they can't, consistently. They want to play defense and they can't (hint: your identity is 2-6).

Some players don't want to win: "Who we playing this week? Big deal. I'm too busy with my woman trying to decide where we will hang in January, Costa Rica or the Dominican? Hey, if I can stay healthy the next eight weeks, you should see the bonus I will get. No need to bust up a running back if I'm going to get paid."

Communication: This is an awfully vague term which was thrown around a lot last year. Joe's pretty sure it was a crafted message for the players to say on the recordt. Joe isn't saying this is wrong, but the public specifics of the "communication" remain a bit of a mystery. If Joe had to put a specific word on it, this would be players "freelancing." It is odd that communication issues are now a thing. Again.

Not ready to play: Guys half-arsing it in the week leading to a game because they have better things to worry about. This also suggests players have tuned out coaches.
Remember when America's Quarterback, Pro Bowler Jameis Winston, was a rookie and he said when the Bucs get players who care as much if not more about winning than the coaches, that' is when the Bucs will be a good team? Martin all but confirmed on the record to Joe last night that this stench still fouls the locker room.
4. Joe has always been a staunch defender of Jameis and that will continue. But Joe is fair and calls things like he sees it. For the first time in Jameis' 40 starts as an NFL quarterback, Joe is beginning to have doubts. This began in the awful game against Carolina. The only thing keeping Joe from breaking out into a sweat is Jameis has a bum shoulder. But while overall (sans the past two games) Jameis has played well, it seems he has regressed. It also seems like he doesn't learn from his mistakes either (such as the dumb shovel pass against Carolina). And that has Joe worried. Remember: The very reason and quite possibly the only reason why the Bucs hired Koetter was to develop Jameis. The stunt yesterday with Marshon Lattimore was unseemly but Joe isn't going to hold that against him. And frankly, "this Joe" didn't have a problem with Mike Evans blasting Lattimore. He was protecting his quarterback and who really knows what was being hollered on the sidelines? Was it a bad look by Jameis? Hell, yes. The starting quarterback should not be in the middle of those kind of hassles. That's bush league.
5. It is time to see what the Bucs have for the future. So the Bucs need to play the young guys more to see what they have, and to see if they could be offseason trade bait or should be tossed. Wins are not the priority any longer this season. It's all about 2018 and beyond, and if the coaches don't like that, too damn bad. You guys helped dig this hole. The older veterans are not playing well, so don't drag the future down with you. Time for Chris Godwin, Caleb Benenoch, Devante Bond and, most of all, Peyton Barber to get on the field more. Yeah, the Bucs coaches are skittish of Barber because he can't block. Joe understands that but guess what? Since the team can't run the ball, defenses are teeing off on Jameis anyway. If Barber shows he can move the chains, that will be a much bigger benefit than any running back's blocking skills.
Trinkets: The Bucs have lost five in a row and look out now, but it's is the Homecoming Game for Josh McClown and ASJackwagon. The ultimate dagger to the heart is if those two link up for a winning touchdown pass next Sunday at the Den of Depression. If that happens, Joe wouldn't be surprised if the Bucs announced some organizational shakeup before dawn the next morning. … Speaking of losing five in a row, Koetter is encroaching dangerously on Raheem Morris territory. Remember, a year after narrowly missing the playoffs in a 10-win season, Morris was fired for losing 10 straight. A year after narrowly missing the playoffs with nine wins, Koetter's Bucs have now lost five in a row. Let's just say Bucs history says this is not a good trend for Koetter. … The delay of game penalties are maddening. This shows how dysfunctional this team is. In the third year with Koetter running the offense delay of games are a thing? Not only should this not be the case, Jameis has to do a better job of monitoring the play clock. … Who has a worse job? Guys that clean sewage lines for a living or folks who are employed to sell 2018 Bucs season tickets?