"The Bucs Are A Mess"
November 6th, 2017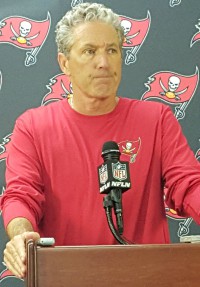 Bucs fans are nauseated. And rightly so. This Bucs team has become such a galling embarrassment. Even winning Bucs coach Dirk Koetter said so after yet another seal-clubbing on the road.
Some believe Koetter has lost the team. Just by hearing the rumblings from too many players, it sure seems some on the roster are just good with collecting checks from Team Glazer.
But has Koetter lost the team?
Dan Hanzus of NFL.com believes yesterday's showing in New Orleans demonstrates that, yes, Koetter is not getting through to the players.
Are the Buccaneers the biggest disappointment of this NFL season? Tampa Bay (2-6) has routinely underperformed, and Sunday's no-show makes you wonder if head coach Dirk Koetter has lost the team entirely. Mike Evans' bush league cheap shot of Lattimore along the Bucs sideline showed all the telltale signs of a team that has lost the plot. When FOX cameras locked in on Koetter minutes later — emotionless and staring into the abyss — it didn't exactly inspire confidence that Tampa has the right leadership in place. That includes Jameis Winston, who started the trouble with Lattimore by poking him in the helmet after a sideline exchange. The fact that Winston wasn't even in the game at the point — he exited after the first half due to his lingering shoulder injury — made it an especially bad look for the franchise centerpiece. The Bucs are a mess.
Yesterday, ,Joe remembers seeing a shot on the Superdome JumboTron of Koetter just after the blocked punt. He had the look of a defeated man, as if saying to himself, "What the hell else can go wrong?"
And Koetter has just about talked himself out. In his press conference, he answered questions as if he was in line at a wake. Sometimes, his answers were non-answers. Perhaps he has none? It seems Koetter is at wit's end.