"Follow Me" Follow Me!"
November 2nd, 2017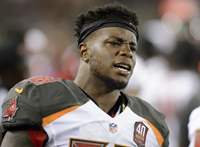 The Bucs may have an identity crisis, as articulated by their franchise quarterback this morning. But one Buccaneer seems to have a solution.
Check out the video linked here on Buccaneers.com. It's a "mic'd up" segment featuring Mike Evans, but Joe's focus is on Kwon Alexander's amped up pregame speech to the team before Sunday's game.
Kwon is screaming, "Follow me! Follow me!"
Sure, the rah-rah stuff is often a lot of hot air. But in these trying times for the Bucs, including for America's Quarterback, Jameis Winston, who appears to have lost some of his special mojo, at least Kwon is offering a fix.
After his shake-off-the-rust game at Buffalo following two months of hamstring trouble, Kwon looked like himself against the Panthers, playing every snap and making plays.
Joe has heard more than one Buccaneer defensive player saying Kwon is the "heart and soul" of the defense. And he is.
Maybe, Kwon can find a way to get his teammates — on both sides of the ball — to all play as physical and passionately as he does.