Cameron Brate: "That's Total B.S."
November 15th, 2017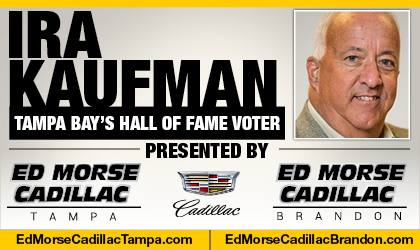 The Sage of Tampa Bay sports, Hall of Fame voter and JoeBucsFan.com columnist Ira Kaufman, knows the elephant in the room is all the national chatter about Jon Gruden taking over as head coach of the Bucs in seven short weeks. So Ira is doing his old-school reporter diligence to dig out what this reality means at One Buc Palace. 
If you're interested, you do NOT want to miss Ira's podcast tomorrow — or today's column.
BY IRA KAUFMAN
Cameron Brate says there's enough time, and he's right.
You don't have to be a Harvard man to realize the Bucs can still squeeze some success from a season that has been painfully short on joy.
There's still time to pull off a second-half surge like this franchise accomplished in 2016, when a 3-5 start gave way to a 6-2 finish.
It all starts Sunday in Miami, where the Dolphins sleep with the fishes. After opening at 4-2, Miami has dropped three in a row, including blowout losses against the Ravens and Panthers.
There's still time for the Bucs to prove they want Dirk Koetter to return to their sidelines next fall.
"We're not out of this by any means," says Brate, one of the few Bucs who has played up to his potential. "In the NFL, we all know that if you're not winning, you're going to get new guys in the building. But I can speak for pretty much everyone on this team that we really believe in everything Dirk does for us and we believe in this coaching staff as a whole."
If adversity reveals character, the Bucs have been through quite an X-ray machine — and the test is far from over.
After facing the Dolphins, Tampa Bay closes with six games against teams that currently all sport winning records — including four matchups within the NFC South.
Let's be honest here, the Bucs haven't beaten a good team all season.
A win in South Florida won't change that fact, but a good showing down the stretch would indicate to fans and ownership alike that Koetter hasn't lost support where it counts.
In the room.
Tight Group
I asked Brate about speculation that Koetter's message no longer resonated.
"That's total b.s." Brate said. "We went through a really bad patch, losing five in a row, especially because there were some winnable games in there. But it's a tight group. We want to play for each other and play for our coach."

Brate said Koetter's attitude never changed throughout the prolonged tailspin.

"He kept the same demeanor, which is what you want as a player," said Brate. "There was no desperation. It was more like we believe in each other."
The next seven weeks matter because the Glazers don't want to be in the habit of changing coaches every two years. Right now, the Bucs are charter members of a group along with the Giants, Broncos and Raiders known as the Underachiever Club.
That's an organization you want no part of, especially with the Jon Gruden rumors swirling around in earnest.
NFL teams never come back exactly the same, but the Bucs can control the degree of turnover with their play.
The bottom of the roster will churn over … that's a given. The next seven games will determine in large part the extent of the changes at the top.
Although the bleeding stopped last week, this team remains on life support. Brate swears the Bucs still believe, and that matters.
The proof will be on the field for all to see.
Especially the owners.
Ira is the most beloved, revered and esteemed Buccaneers columnist in town. He has hung his hat at JoeBucsFan.com world headquarters since July 2016. Tampa Bay's only Pro Football Hall of Fame voter, Ira busts out columns here every Monday, Wednesday and Friday, and his award winning podcasts fire Tuesdays and Thursdays. You can also see Ira every football Sunday at 10:30 a.m. on FOX-13, Scott Smith's Tailgate Sunday.