Buccaneers-Jets, Open Thread
November 12th, 2017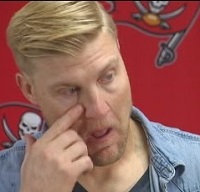 Comment throughout this afternoon's Buccaneers-Jets game with intense, wild and usually reasoned Bucs fans. Great fun!
Direct all personal attacks at Josh McCown, Austin Seferian-Jackwagon and Jets players and coaches, not each other (Joe's filters are tuned up for the haters.)
Enjoy and prepare for Joe's award-winning postgame coverage, including Ira Kaufman's 10 Takeaways.
Go Bucs!!!!