Spreadsheeter: Blame Jameis
November 7th, 2017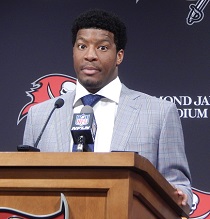 If anyone is to blame for the Bucs being 2-6, there is one person to point a finger at. That would be America's Quarterback, Pro Bowler Jameis Winston.
That's the word from follicly-challenged spreadsheeter Bill Barnwell of BSPN.
Barnwell is handing out midseason awards to various NFL players and he believes the Most Disappointing Player of the Year is Jameis. He fingers Jameis for the suckage of the Bucs this season.
Winston's lack of development as a third-year starter has been far more troubling. This was supposed to be a breakout season for the Bucs after Tampa signed DeSean Jackson before using a first-round pick on O.J. Howard. Instead, while Winston's raw numbers are at or slightly above their averages from a year ago, his overall performance has slipped significantly. Winston has generated only a 39.4 QBR, down more than 20 points from his 59.5 mark from a year ago. He has missed open receivers on a weekly basis. Winston's shoulder knocked him out of Sunday's loss to the Saints, but he was struggling before spraining his shoulder earlier this season. In what is quickly becoming a lost season for the 2-6 Buccaneers, Winston seems as far removed from Tampa's 2016 campaign as anyone else on the roster.
Joe would use the word "erratic" more than "disappointing." Jameis has been inconsistent and his slow starts are to the point of being a major concern.
Of course, he turned in one of his best games after he blew out his shoulder and he gave the Bucs the lead late in Buffalo, only to see his defense ralph all over themselves and choke away a victory.
Joe told you it is open season on Jameis.