Mike Smith Says Soft Coverage Is On Hargreaves
October 11th, 2017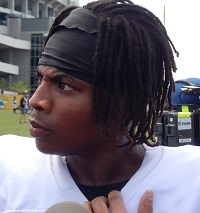 Defensive coordinator Mike Smith pointed a finger today when talking about an issue in pass coverage.
That doesn't happen often. 
That giant-sized cushion cornerback Vernon Hargreaves has been handing out like Halloween candy? That's a Hargreaves call, Smith said.
Remember what former Bucs cornerback Ricky Reynolds said Sunday, that Hargreaves was playing scared? Smith was asked today about Hargreaves giving a lot of cushion because maybe he is lacking confidence.
Mike Smith didn't dismiss that notion.
"I don't think [the soft coverage] by design in terms of what we're asking our players to do. We give our guys a little bit of flexibility in terms of where they fell comfortable.There's ranges in where we would like them to line up,"Smith said. " We don't say, 'hey, we want you to be right here in this specific defense.' We do give them, because based on their skill set; you know, Brent Grimes is going to play it different than Vernon Hargreaves.

"And again, I think Vernon, he had a lot of snaps last year. I think he continues to learn. Like I said, he gets a lot of opportunities because of who we have [at cornerback] on the other side."
Smith did praise some of Hargreaves' work and acknowledged there's good with his bad, continuing to emphasize Hargreaves is getting a lot of action because teams are avoiding throwing at Grimes. "You're going to win some; you're going to lose some," Smith said of Hargreaves.
At this point, Joe has fingers crossed that Hargreaves gets the message pounded into him by coaches all spring and summer: Play more aggressively, which plays to your first-round talent.
Arizona presents another big test for 22-year-old Hargreaves.