Ex-Bucs Cornerback: Fear Infecting Vernon Hargreaves' Game
October 8th, 2017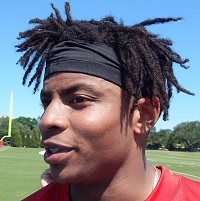 A former Buccaneers cornerback, a 10-year NFL veteran, has weighed in on Vernon Hargreaves' football woes.
Hargreaves' step-up season has turned into a Myron Lewis sequel, and that's a very scary situation.
Mild-mannered Ricky Reynolds, a starting corner for the Bucs and Patriots in the '80s and '90s, said fear is overcoming Hargreaves.
"He's definitely playing too soft. I think it's all mental," Reynolds said today on Scott Smith's Tailgate Sunday on FOX-13 in Tampa, the same show that stars JoeBucsFan.com columnist Ira Kaufman.

"I think he's a guy that has the skills and all the abilities to make plays, but he's thinking that he's going to get beat deep every time. And he needs to not worry about that and rely on his overall ability and his skills to be able to challenge those routes and jump on some of those short passes they are hitting in front of him."
What scares Joe is that Bucs officials said all offseason that a more aggressive Hargreaves was the plan for 2017. Those were his orders: play unleashed and loose. But it hasn't happened.
The inevitable result of this will be teams further going at Hargreaves and away from Brent Grimes on the other side of the field. That happened all last season, and it will continue until Hargreaves can scare a defensive coordinator.
On a positive note (sort of), Reynolds predicted Hargreaves will be the Bucs' bounce back player of the day next Sunday. "He can't do any worse," Reynolds quipped.