Bucs Had Disrupted Practice On Wednesday
October 28th, 2017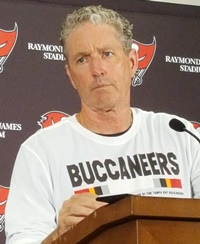 Last week, before the defensive collapse in Buffalo, Bucs players and coaches all said they had a smooth and very successful week of work.
Not so this week.
Formerly winning head coach Dirk Koetter explained on the Buccaneers Radio Network that high wind halted practice Wednesday and the team packed up in the middle of the session and moved to their indoor facility.
What?
So what if there's a big breeze, isn't that a game condition to get used to for a team that plays outdoors? Jiminy Christmas!
Hold on. There's a reason.
Koetter said winds hit 28 miles per hour and that forces team camera people perched high about 40 feet above the field to stop filming and come down to the ground from their apparatus. Anything more than 25 miles per hour and they have to quit for safety reasons, he said.
So everyone marched indoors and practice had to restart.
It's all understandable, but still a little odd distraction for a team that plays outdoors in the elements.