Trade Option: Charcandrick West
October 28th, 2017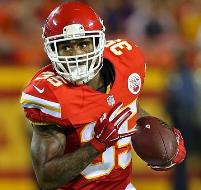 Joe cannot take credit for this but it is a helluva idea.
The one thing the Bucs lack to move their offense to elite status is running back. You know, a guy that can both make folks miss in the open field and run like the wind?
How about Chiefs running back Charcandrick West. Buried on the depth chart behind Kareem Hunt (remember when the Bucs worked him out before the draft?), West is in his fourth NFL season and has serious wheels. Coming out of college, he ran a 4.36 and a 4.27 40-yard dash.
This idea was floated by the "ATL" crew at NFL.com. But who would the Bucs have to give up for West? How about safety T.J. Ward?
Since the Chiefs lost Eric Berry to injury, the Kansas City defense has been slowly falling apart. They need a guy like Ward badly as Kansas City likes to use a safety deep in the box. Ward is a hitter of the first order and it seems this is a perfect fit.
As recently as last night on SiriusXM NFL Radio, winning Bucs coach Dirk Koetter referred to Ward as a "rotational" player.
Meanwhile, the Bucs get a guy who is a threat to take it to the house if he gets past a tackle or two.