Jobs On The Line
October 25th, 2017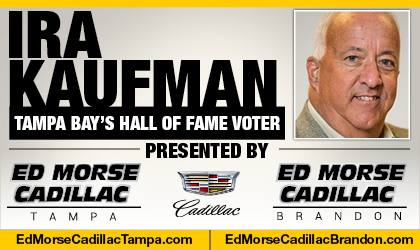 BY IRA KAUFMAN
Buc fans are running out of patience and this franchise is running out of time.
A 2-1 start has given way to a three-game losing streak heading into the opening of divisional play Sunday. If Tampa Bay doesn't snap out of its funk within the next two games, this season will be toast at the midway point.
A lot of jobs, including some big ones, are on the line as the Bucs prepare for a home game against the reeling Panthers and a road meeting with the division-leading Saints.
New Orleans is a prohibitive favorite Sunday against the Bears at the Superdome, so the Bucs face the daunting prospect of falling four games behind the Saints with half the season gone.
In that grim scenario, the Bucs would remain in the NFC South basement and the Glazers would remain in shock about the sorry state of their football team.
Heads and helmets would likely roll in January as disconsolate Buc fans nod in agreement.
Yes, these Bucs are standing at the crossroads, singing the blues.
"The only thing you can do right now is you've got to get one game," says Dirk Koetter. "I showed the guys the division standings and we are what we've earned to this point."
The Bucs are on the short list of NFL underachievers, joining the Giants, Raiders and Bengals. That's a group you want no part of.
Avoiding Draft Talk
How many times have you heard players and coaches bring out the old cliché about every game counting the same. That's not true anymore. If the Bucs don't turn this listing pirate ship around in the next two weeks, the final eight games won't matter — except for positioning in the 2018 draft.
In case you haven't noticed, the Saints are marching after an 0-2 start. They still average 28.5 points per game under the direction of the remarkable Drew Brees and now New Orleans has a solid run game,
That's been a missing link the past three years, but Mark Ingram and Alvin Kamara are providing balance since Adrian Peterson's departure.
Despite playing half of their road games already, the Saints are 4-2 with the help of an improved defense. Although Sean Payton is pleased, he is taking the long view.
"I don't think anyone's paying attention to the horse at the quarter pole," he says. "What we're paying attention to most is the things that we've got to clean up. I get a kick out of Week 4 projections, 'Who's in the playoffs?' It's just white noise in the same way with where we are now. We haven't hit the halfway point of the season yet."
In Tampa, white noise has been replaced by carping.
The Bucs began the season as NFL darlings, a 9-7 team led by an impressive core of young talent. Now, they're looking up at the Bears, Jets, Jaguars, Dolphins and Bills.
Fast Answers
What went wrong? We all know the usual suspects — woeful pass rush, poor tackling, soft coverage, lousy running game. You can't let this coaching staff off the hook, either. In-game adjustments haven't worked out and crushing penalties continue to haunt the Bucs.
Through the gloom, there is one saving grace … there is still time if the Bucs can get their act together.
"The fact that some other teams got beat in our division is in our favor," Koetter says. "It is a factor that we have not played division games and those games can move you up fast. We have to play better football. We have to coach better football. You've got to get one. You've just got to get one win."
These next two weeks will tell us all we need to know about this football team. Cam Newton and Brees could care less about Tampa Bay's precarious position.
This season could effectively be over by the evening of Nov. 5. So could a few high-profile jobs at One Buc Place.
Ira Kaufman is the most beloved, revered and esteemed Buccaneers columnist in town. He has hung his hat at JoeBucsFan.com world headquarters since July 2016. Tampa Bay's only Pro Football Hall of Fame voter, Ira busts out columns here every Monday, Wednesday and Friday, and his award winning podcasts fire Tuesdays and Thursdays. You can also see Ira every football Sunday at 10:30 a.m. on FOX-13, Scott Smith's Tailgate Sunday.