Jameis Winston, Ali Marpet, Mike Evans Talk Hard Knocks Portrayal
September 7th, 2017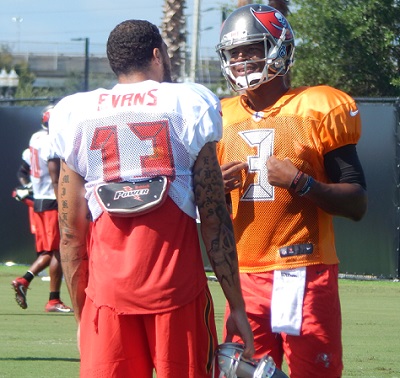 Hard Knocks showed America's Quarterback, Jameis Winston, loving his dog Tootsie, getting playful with his girlfriend, chewing out teammates face-to-face, showing prejudice against football players from the north, absorbing F bombs from his head coach and imploring his teammates to focus, "F your circumstances."
Joe asked Jameis, Mike Evans and Ali Marpet if they liked how they were portrayed on the recently concluded HBO series.
"I think 'Hard Knocks' was good. You know, everyone got their shine time," Jameis said. "I don't believe in liking the way that I was portrayed. I think it was a chance that everyone was able to see the Bucs – see us.

"I think it was good. It's a positive."
Evans gave a huge thumbs-up to what Hard Knocks showed of him.
"I did a good job. That's how I am, what you saw on TV," Evans said. "They portrayed who I am. That's all I could ask for. I thought it was good."
Ukulele-playing center Ali Marpet, whose budding musical talent was aired on Hard Knocks as he sat alone on a beach, wasn't all warm and fuzzy about how he came across on the show. The series ended with Marpet asking producers whether a staged scene of him playing the ukulele under a palm tree was "cheezy as f**k."
"I don't really care,' Marpet said. "I mean, I think my family liked it. So that's enough for me."