"F Your Circumstances"
August 31st, 2017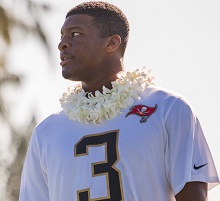 So how great of a leader is America's Quarterback, Jameis Winston?
We learned on Hard Knocks this week that general manager Jason Licht thinks Jameis is the greatest leader he's ever been around — in any walk of life. And this is a guy who worked alongside and/or with Andy Reid, Bill Belicheat, Don Shula, Jimmy Johnson and other monsters of the gridiron.
Joe doesn't get crazy worked up about leadership. It can be overrated. But it's important, especially for a playoff team.
The Bucs still have to get there, but Joe would pick Jameis over any other quarterback under 30.
In Jameis' crazy-intense pregame speech before the Browns-Bucs preseason game, the height of Jameis' screaming call for unity included the following gem.
"Don't worry about the rain, and F your circumstances! We don't got no circumstances! All we know is ball and ball is life!
So much fun. And Joe loves the mindset. This year, the Bucs have enough talent and the coaching to win — to hit 10 wins and get to the playoffs. "F" the circumstances, the schedule, the excuses, the inevitable injuries. It's time for a breakthrough season.