"Got His Swagger Back; Got His Swagger Rollin'"
September 28th, 2017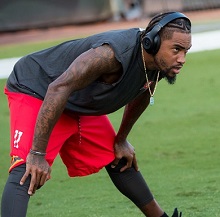 Right after Sunday's loss, Joe wrote about the chemistry troubles between DeSean Jackson and America's Quarterback, Jameis Winston.
They're understandable, and Jameis touched on them today.
Jameis underthrew speedster Jackson in the end zone and was picked off in Minnesota. Jackson was open, and underthrowing him feels like a crime against the football gods.
But Jackson did catch a TD pass, and Jameis thought that was a bit of a breakthrough.
"It's gettin' there," Jameis said of their chemistry. "I'm happy we were able to get him one."
Jameis went on to say sometimes a guy like Jackson just needs a little success in a game to fire up. Sunday's TD "got his swagger back, got his swagger rollin'," Jameis said of Jackson.
The Franchise also talked about how winning head coach Dirk Koetter does a masterful job of spreading the ball around and keeping everyone happy, and Jameis loves sharing the rock, though he admitted Mike Evans is the top dog.
Joe has no doubt Jameis and Jackson will click better with time. Will it take four games, eight games, a full season? That's the mystery.
In the meantime, Bucs fans just have to hope their misfirings remain incompletions versus interceptions.