Chemistry Troubles
September 24th, 2017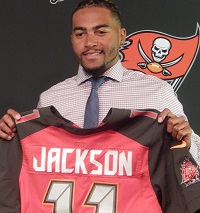 Dirk Koetter warned about this long before the season started.
And anyone with an ounce of football knowledge and experience knew it was likely. Joe's talking about struggling chemistry between DeSean Jackson and America's Quarterback, Jameis Winston.
Would it take half a season for them to get on the same page? A full season? A couple of games?
(Sorry, but clicking in practice and/or preseason doesn't count.)
There's no answer yet because Jackson and Jameis are having issues. (No, Joe is not reading into their intense sideline chats seen on the FOX broadcast. That's just football.)
Jameis misfired with Jackson in the Bucs' opening game and again today. And it cost the Bucs big time, seemingly leading to two interceptions in Minnesota.
The fix only comes with more playing time.
What is somewhat disturbing is Todd Monken saying Jameis was vastly improved on the deep ball this offseason. That hasn't exactly shown up yet.
Joe is not panicking. It's clear that Jackson is having a big impact on the offense just being on the field. And he's made his share of plays, including leading the Bucs with four catches for 84 yards and a touchdown today.
Despite those stats, Jackson and Jameis have a long way to go. And that's very encouraging. If those two fully get on the same page, the Bucs should be scary dangerous.