Watch For "Creative Editing"
August 22nd, 2017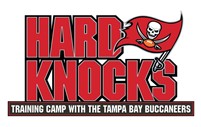 Yes, "Hard Knocks" is just minutes away, and Joe thought he'd drop this post on Bucs fans ready to watch.
Joe knows many of you listen to the "Ira Kaufman Podcast" from world-renowned NFL writer and prized JoeBucsFan.com columnist, Ira Kaufman. Joe has referred to the broadcasts of "Hard Knocks" as "creative editing." This is where the NFL Films producers, who put together the series for HBO, can splice and craft video to fit a narrative or a story of some sort.
For example, Joe was just re-watching last week's episode, and in particular, the scene in which winning Bucs coach Dirk Koetter and Bucs AC/DC-loving general manager Jason Licht decide it's finally time to cut the cord on kicker Roberto Aguayo.
Well, "Hard Knocks" shows a scene that is intended to provide an image that Koetter and Licht are hashing out the Aguayo decision at the crack of dawn the morning after the Bucs played the Bengals in the first preseason game. "Hard Knocks" shows a pretty scene from a drone — Joe has seen the thing hover over One Buc Palace — with the sun in the horizon and One Buc Palace and the practice fields in the foreground.
The problem is, the scene isn't dawn, but dusk.
Joe knows many of you are likely recording "Hard Knocks." Go back and look at the scene. It is One Buc Palace in the foreground with the giant Bucs flag in the middle of the frame, and the sun in the background. Anyone who has been to One Buc Palace knows the giant Bucs flag is located in the parking lot west of One Buc Palace, west of the practice fields. The sun sets in the west; rises in the east.
So that scene is actually caught at dusk, not at dawn. If Koetter and Licht were actually discussing cutting Aguayo at the time the scene was shot, it would have been while the Bucs were playing the Bengals the night before in Cincinnati, if that's when the sunset image was captured.
And that is what Joe calls "creative editing."