Jameis: Training Camp Rain = "Adversity"
August 2nd, 2017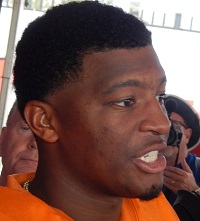 Sure, NFL coaches love practicing in the rain because they can't simulate those conditions. Fair enough. But rain and the elements every day is a very different story.
America's Quarterback, Jameis Winston, went there today after practice.
Jameis actually called the conditions at One Buc Palace "adversity," after a practice that had intermittent rain.
"You know everyone is impressing me because of the adversity that we are facing already early in camp, like I said, with this weather. Everyone's coming out here with a purpose – and that means a lot to me," Jameis said. "Sometimes people can lose track of things because the weather, it's humid, the tempo of practice has changed, we've got to shorten practice up because of the rain. People start to lose focus, but I've been very happy with everyone for staying focused. We say something in the building, 'Every rep counts.' No matter what happens, we have to take advantage of every rep that we get out there."
There is great disagreement at JoeBucsFan.com world headquarters about the rain at practice and how that affects the team preparation. Anyone who listened to the last Ira Kaufman Podcast heard if flushed out in a firestorm of back and forth.
The Joe typing this sees the endless wet balls and soggy field conditions as a negative. Once is great. Twice is nice. Four out of five camp days is, well, adversity.
There's a reason that giant indoor facility is under construction behind the practice fields, and it's not just about extreme heat.
Also, Joe has to say that Jameis very likely is echoing what he's hearing from Dirk Koetter, when it comes to the adversity line he spouted, as Jameis often parrots the winning head coach.