Day 5 Training Camp Notes, News & Nuggets
August 2nd, 2017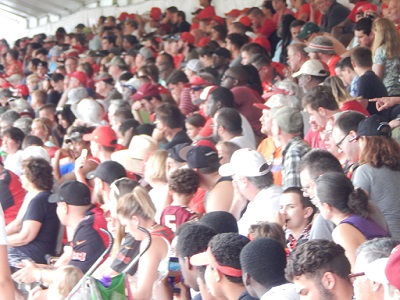 Yes, Joe was taking notes early and often during today's training camp session, Day 5 at One Buc Palace. It's Joe's nearly world famous practice notes.
*Not that big of a crowd today (not small, but not totally packed either). Loud, though. They are into it.
*DE Ryan Russell, who was talked up big time this spring by D-line coach Jay Hayes, — and he got love from Dirk Koetter the other day — registers what would be a sack if he were allowed to drill the QB. Donovan Smith takes the beating.
*Dammit, some of these linebacker pulling up their shirts halfway, which screws up number reading on the Bucs' wacky uniform numbers, is really annoying. Pal, you lost your shot at getting praised here for a good edge rush in what appeared to be a 3-4 alignment.
*Oh, boy. Fiery offensive line coach George Warhop sure had an earful for Evan Smith (playing center) after a run play with the second-unit offense.
*The Vero Beach lounge singer (Freddie Martino) makes a diving catch over the middle with the threes.
*Chris Godwin reaches out in tight coverage on a crossing pattern to pull in a pass from America's Quarterback, Jameis Winston.
*Martino goes low to make a catch on a Jameis throw.
*Red Hot Chili Peppers blasting so loud can likely be heard at La Teresita.
*Cam Brate goes high in double coverage to haul in a Jameis pass and is sandwiched.
*Jameis hits Godwin on left hash about 20 yards downfield.
*Martino reaches out and rolls after hauling in Jameis pass crossing route. Zone coverage in
*Jameis hits Josh Huff right in the hands. Drop.
*Field goal kicking practice resumes and a "Hard Knocks" crew sprints into action. Lots of kicking today. Roberto Aguayo and Nick Folk were pretty good, with Aguayo drilling from 56. Folk missed from the same distance. Overall close today with the makes and misses from various distances, but Joe gave the Wednesday edge to Aguayo. Man, fans really perk up when these guys are kicking.
*Rookie RB Jeremy McNichols took a late shot to his shoulder by camp meat safety Isaiah Johnson. McNichols appeared pissed. Was it the shoulder he had operated on this winter? Joe doesn't know. Two plays later, McNichols was stripped of the ball just after the whistle by Josh Robinson. Yesterday, McNichols was drilled by Kwon Alexander. Lot of learning experiences for the rookie.
*Thinking the folks who wanted to throw Vernon Hargreaves over the bow last year (for some reason) can relax. He's practicing very well.
*Ryan Fitzpatrick hits Godwin in the chest over the middle but the rookie can't hang on.
*The greatest Bucs coach in franchise history, Chucky, is in the house and to honor him, Bon Jovi blaring over loudspeakers. Chucky spends most of his time on the sidelines at practice talking to Super Bowl QB Brad Johnson. Man, Chucky is animated. This went on and on. Chucky's arms were folded chatting, and then he's describing something with his hands and full body. Fun to watch.
*Bad Jameis! On a screen play to the left, Vernon Hargreaves blitzes, skies and picks off Jameis for a housecall.
*Next play Jameis finds Godwin over the middle.
*Pretty pass in tight coverage down the right seam to Mike Evans from Jameis.
*Man, even in passing drills Fitz is off. Rough morning for The Beard.
*By the reaction of fans, it seems they are more into a Montrell Jordan tune than the threes (third team).
*Topless football. Always a crowd-killer. … Helmets back on, music back on, fans perk up.
*Fitz WAY underthrows a receiver along right sideline and Robert McClain is the beneficiary.
*Led Zeppelin envelops the practice fields.
*Joe selfishly hopes it remains cloudy the rest of August (at least in mornings). Training camp practice last three sessions has been refreshing.
*A sight as rare as Sasquatch: Charles Sims ran up the middle for a big gain.
*Lots of offensive highlights here, but the defense clearly is getting the best of the offense, as Joe wrote (story on the home page). In a late 11-on-11 session, Jameis over threw Josh Huff, then was off-target to Adam Humphries short with Brent Grimes on his back, followed by a sack/took too much time. Devante Bond appeared to be on the edge pressure from the right side. A training camp 3-and-miserable — for the offense.
*Aside from an ugly drop, Godwin really flashing today. Yes, pads are on. #KennyBell
*Though Bucs are not hitting on special teams, Josh Huff pierced the kickoff team for a healthy gain.
*Special teams drills do a good job of throwing water on fans' excitement. What was a lively crowd is now quiet.
*People even cheering on the threes (third teamers).
*Lot of first-team action for Martino and Huff today, and they sure didn't look up to it. Martino better than Huff, though. Martino with a rough late drop with Grimes on his back. Gotta catch that. Full story on those guys on the home page.
*Another win by the defense, yet another no-throw by Jameis in 11-on-11. Guys are covered and pressure is on Jameis. On this particular play, Demar Dotson and Will Gholston take each other to the ground.
*On that series, Mr. Beasting, Robert Ayers, completely blew up a shotgun handoff to Jacquizz Rodgers by Jameis.
*Major league work put in after practice by Godwin with receivers coach/offensive coordinator Todd Monken.
*Jameis spent a looong time signing autographs before diving into a news conference.