Major Missed Opportunities For Huff, Martino
August 2nd, 2017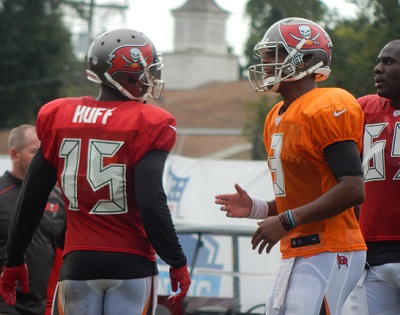 The last two seasons, the lack of talent at the No. 5 receiver position bit the Bucs in the butt — hard.
That's one reason Russell Shepard is wearing Panthers gear.
Sure, Tampa Bay is better at receiver this season with DeSean Jackson and rookie third-round pick Chris Godwin. But the depth isn't there at No. 5 and nobody has really stood out through five days of training camp, per Joe's eyeballs.
Today, the Bucs gave a two bubble receivers a lot of opportunity to shine catching balls from America's Quarterback, Jameis Winston, and they didn't from what Joe could see.
Speedy Josh Huff and Freddie Martino, he of the velvet-lined lounge at the Vero Beach Ramada Inn, got lots of time playing with Jameis. They didn't look ready.
You can see video below of Josh Huff dropping a perfectly thrown ball from Jameis, and you can see another video of Martino getting behind the zone defense for a completion. But Martino looked overmatched during other shots against the first-team defense. And Joe spotted Jameis emphatically coaching up Huff at other times.
Donteea Dye? He's flashed a little this offseason, but Joe has never been impressed by the misplaced Calgary Stampeder. His questionable hands 2015 still give Joe the shakes.
None of the other receivers vying for No. 5 have really jumped out. There's lots of camp and preseason games to go, but Joe's not hopeful on Aug. 2.
Will the Bucs turn outside the organization for a No. 5 this year. Joe wouldn't bet against it.
Huff Drop From Jameis

Martino Behind The Defense (and don't miss the Brent Grimes hops/hurdle.)