Tuesday Practice Notes, Nuggets & Observations
August 8th, 2017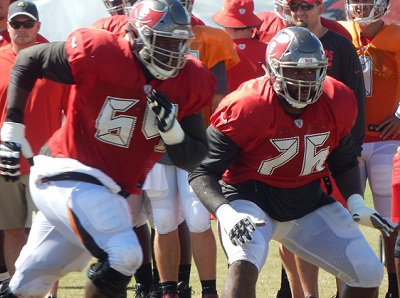 Yes, Joe continues to patrol the training camp practice fields when not talking to important officials and fans, or inviting cheerleaders to Friday's watch party, or analyzing practice video. Here are Joe's nearly world famous practice notes from this morning's sweat fest.
*Closed to the public, training camp is open for Bucs V.I.P.'s, which means season pass holders. Hey, throwing down a credit card should come with something, right?
*Donteea Dye is still out injured. Ali Marpet (story on the home page) on floppy-hat duty with a right ankle injury.
*O.J. Howard takes a pass from Ryan Griffin and it is a house call. The silent crowd suddenly awakens.
*More Howard, this time a double move to spring free for a touchdown in 1-on-1 drills.
*DMX has the crowd hopping!
*Speaking of the crowd, it is the total opposite of Stick Carrier Takeover Day. It is funeral like, but there was some sporadic Stick Carrier style enthusiasm. There also were cheers "Dirk, Dirk, Dirk" during the head coach's post-practice news conference. Joe heard another media member say, "I've never seen a coach with so many fans."
*Defense playing tag. Doug Martin catches a pass from America's Quarterback, Jameis Winston, in right flat. Would have been tackled but after the tap, rans for a big gain. Please bring on the preseason!
*DeSean Jackson on a crossing pattern against a linebacker is just wrong.
*Jameis drops a pass right on Adam Humphries' (Rudy!) belt and he races up right sideline. Rudy is having a good camp.
*Ryan Griffin hangs in against the blitz and hits the Vero Beach Ramada Inn lounge singer (Freddie Martino) on the left side. One could make a reasoned, logical argument that Griffin should be the No. 2 quarterback based on camp performance.
"Bucs bring the blitz on Jameis but he connects short with Mike Evans and… he… is… gone!
*"Flying Fitz! Ryan Fitzpatrick runs a boot around the right end and then once past the line of scrimmage reverses field to the right and rumbles for 25 yards! Wheels!!!
"Chris Godwin. Again. Catches Jameis pass along right sideline and, after running out of bounds, gets a love tap (ahem) from Vernon Hargreaves. Almost like Hargreaves was sending the rookie a message
*Corners are getting feisty today. Pass interference on Hargreaves, though it sure looked like Mike Evans was grabbing a lot of jersey, too. Officials are at practice today and they are throwing their share of hankies.
*Nice body contortion by Charles Sims on a short catch/pass from Jameis.
*Jameis way overthrows Howard in the end zone. Howard took a lick from what appeared to be Keith Tandy. Howard felt that one, landed on his hip after skying for the ball.
*Jameis to Cam Brate with good coverage by Hargreaves. Brate had Hargreaves shielded perfectly and appeared to break a legitimate tackle attempt, too.
*Godwin has hops, skies for a TD grab in 7-on-7 with Josh Robinson on his tail.
*11-on-11: Doug Martin catches a short pass and is snuffed out behind the line of scrimmage by Javien Elliott.
*Clinton McDonald makes Kevin Pamphile look foolish. (Video on home page) Toss to Humphries never would have happened if McDonald was allowed to hit Jameis.
*Ryan Smith is getting a lot of extra coaching today. Per Joe's eyeballs, Smith has not had a good camp at cornerback.
*Perhaps the hardest hit of the day was Javien Elliot on a short pass over the middle to Martino. Elliott paid the price on that one and got up as if he was shaking cobwebs from his head.
*Finally, the Bucs offense has some pace and energy to it. Jameis with a quick short throw to Sims, who has looked very quick in camp. Good chemistry there.
*Jameis with some misdirection. Line moves right, Jameis fakes a handoff and rolls to the left side of the pocket. He completes deep on the right side to Brate, who easily beat Justin Evans and Kwon Alexander.
*Another flag. Offense jumps. It appears to be Donovan Smith. HOWEVER, Joe's footage shows Smith and Sweezy jumped after center Josh Allen moved without snapping. Allen appeared apologetic when Jameis came to talk to him. Koetter marched in and looked pissed.
*Jameis with a throwaway into the ground. So rare to see him give up on a play. Maturity?
*Juggling catch by rookie tight end Antony Auclair. That's not a good thing, since it was right in his hands.
*Last skill position player off the practice field half hour after practice? O.J. Howard. Jameis, O.J., Cam Brate, Alan Cross and Ryan Griffin stayed half hour after practice working on pass plays. Demar Dotson and Caleb Benenoch were working on blocking technique.