No Hard Knocks Glow From Dirk Koetter
August 8th, 2017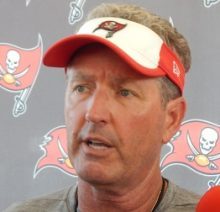 Winning head coach Dirk Koetter was asked today if he already watched the Buccaneers' debut episode on Hard Knocks, which rolls out tonight at 10 p.m. on HBO.
Yes, Koetter watched it. And, well, Joe is a two-plus-year student of Koetter's body language and it sure seemed like Koetter wasn't exactly thrilled with the show.
See for yourself here on Buccaneers.com. There was no glowing endorsement. Koetter also made it clear he didn't want more Hard Knocks questions at his training camp news conferences.
Joe could share all kinds of interesting theories as to why Koetter wasn't playing Hard Knocks cheerleader. Joe would enjoy getting intelligently creative with that, but really, there is no point. It could be as simple as Koetter hoping his parents don't hear an F-bomb. What appears on the show tonight is a mystery that will be solved in a matter of hours.
Perhaps Joe will speculate on what Koetter did or didn't like after the show.
And come back tonight and in the early morning. Joe will have plenty to share from Hard Knocks.