Remove The Blinders, Gerald
July 26th, 2017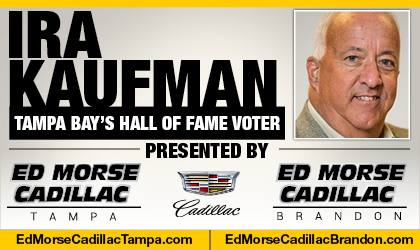 BY IRA KAUFMAN
You don't suddenly transform yourself into a leader by hitting the weight room, kissing babies or watching film.
You either have it or you don't — and it's not the kiss of death if you don't.
Gerald McCoy may not appreciate Ronde Barber's remarks to the Tampa Bay Times, but the Hall of Fame candidate meant no disrespect. Barber didn't suggest McCoy isn't an outstanding player, he simply suggested McCoy is not a natural leader.
Guess who agreed with Barber, only three months ago?
Gerald McCoy.
In April, McCoy acknowledged that prominent people he respects told him he needs to elevate his game.
"It hit home," McCoy said from the podium at One Buc Place, knowing the cameras were rolling. "It wasn't devastating, but it was a reality check. The gist is I haven't done enough to lead this team."
That was McCoy, not Ronde Barber.
Read The Paycheck
The questions regarding McCoy's leadership skills have haunted No. 93 since he was selected with the third overall pick in the 2010 NFL draft, just behind Ndamukong Suh. A significant segment of Buc fans want McCoy to play with more of the badass attitude that defined Warren Sapp.
They want McCoy strutting through the opponent's pre-game stretch routine, brashly announcing his presence and letting them know in advance they are in for a long day at the office.
That's not McCoy. Never has been, never will be.
McCoy appears to be bent out of shape by what he perceives as a lack of respect for what he has accomplished. He needs to get over it.
In 2014, the Bucs showed him $51.5 million worth of respect in guaranteed money. His image is still up on a mural in the northwest corner of Raymond James Stadium. Teammates and coaches talk him up constantly as an impact player.
Isn't that enough?
So he's not Warren Sapp. Anybody hear Lavonte David lamenting the comparisons to Derrick Brooks?
Like McCoy, David is a very good player who isn't a born leader. No big deal.
Jameis Winston was a leader the moment he strutted through the door at One Buc Place.
Live with it.
Wrong Blinders
And guess who has come flying to McCoy's defense? None other than Rays pitcher Chris Archer, the poster child for pro athletes who yearn to be leaders but just don't have the right stuff.
At least McCoy has done enough on the field to command esteem. Archer hasn't done squat, so his support for McCoy is rather comical.
McCoy is the second-best defensive tackle in franchise history, ranked No. 52 on the NFL's current Top 100 list in voting by players.
If the Bucs are to end the nine-year playoff drought that includes McCoy's entire pro career, he will need to be a big part of the effort. McCoy has played hurt and he has played hard, but he needs to drown out the "elevator music" that Jon Gruden used to warn about.
He needs to Tweet a little less and understand that everyone in the organization has his back. And he certainly doesn't need to suggest that his days in Tampa are numbered, like he did this week.
The Bucs made him the highest-paid defensive tackle in NFL history, and if Suh, Fletcher Cox and Kawann Short have passed him by in terms of salary, that's more about timing than McCoy's skill package.
On the brink of training camp, McCoy has made himself a natural focal point for Hard Knocks. He's already been the star of a one-minute trailer that shows him running up the steps to the top of Raymond James Stadium.
But instead of enjoying the view from the summit, McCoy has chosen to wear blinders. He sees only the skeptics, and that's a shame.
Ira Kaufman is the most beloved, revered and esteemed Buccaneers columnist in town. He has hung his hat at JoeBucsFan.com world headquarters for a full year. Tampa Bay's only Pro Football Hall of Fame voter, Ira busts out his columns here every Monday, Wednesday and Friday, and his award winning podcasts fire Tuesdays and Thursdays.