Drowning Out The "Elevator Music"
July 24th, 2017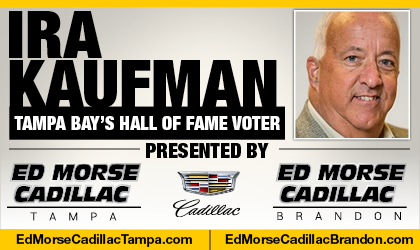 BY IRA KAUFMAN
Dirk Koetter has had more than a month to devise a speech welcoming the 2017 Bucs to training camp.
It ought to be a doozy.
All it took was one season as an NFL head coach for Koetter to earn a reputation as a master of mind manipulation. It's a little tougher when you've got 90 minds to meld, but it's critical that Koetter sets the right tone this week while those Hard Knocks cameras are whirring away.
Everybody in the Bay area knows expectations are high for this football team. That's a good thing — and a potentially dangerous thing. The national media seems to be tripping over each other in an effort to leap onto the Bucs bandwagon.
Nick Wright of Fox Sports has the Bucs winning 13 games this year. Oh my.
I'm not sure even the Glazers are expecting this group to set a franchise record for victories in a regular season.
USA Today predicts the Bucs will end a nine-year playoff drought. Over at NFL Network, they all seem to have their flags firmly planted at One Buc Place. Kay Adams, Colleen Wolfe and Peter Schrager can't go more than a few days without hyping the Bucs.
You can bet none of this hoopla has gone unnoticed by the man charged with keeping a young team well grounded.
"We've got to control what we control," Koetter says."We can't control – good or bad – what's said. The NFL's popular. It's great that you folks are here talking about us. It's great that people nationally are talking about us. But there's 31 other teams that got better. We've got to prove it on the field."
Koetter might be wise to remind his guys that they haven't done diddly as Buccaneers. All of Schrager's kudos won't help Ali Marpet as he tries to block Ndamukong Suh in the season opener.
Grueling Goal
Jon Gruden used to have a pet phrase for the media chatter surrounding the Bucs.
He termed it "elevator music."
So here comes Jameis Winston, thinking about all the work necessary if you intend to press the button for the penthouse.
"You've got to execute," Winston says. "All the media can talk and tell us and predict our future, but at the end of the day, we've got to get on that field and we've got to execute and we've got to play."
When Buc players report Thursday, they'll quickly be reminded to expect a grueling, competitive camp. Every coach says that … Koetter means it.
In the past two seasons, the Bucs improved by four wins, then three wins. The arrow is clearly going up, much to the delight of the men who write the checks, and this franchise appears on the brink of another extended cycle of success.
But life is fickle in the NFL. That arrow can turn into a dart if an organization doesn't remain driven.
There hasn't been a lot of laurels to rest on around here in the past decade, but Koetter isn't taking anything for granted.
"I talk to the guys about it all the time," he says. "You want to be talked about, but there's going to come a day where we have to back it up. That day's going to come on September 10th, the first time it's going to really count."
No 2016 Soft Serve
DeSean Jackson has been around this league long enough to know there are no shortcuts to the postseason.
"You have to go through every phase, you've got to do every step," he says. "You look back at all the great teams, the Patriots, they do things in phases. It takes one game at a time. We can't be here before any preseason game starts saying let's think about Week 16.

"You can't cheat your way to a Super Bowl. You've got to put the work in. As long as everyone knows it's going to take that work to get there and you're not shying away from the work to get it done, I think we'll be fine."
Koetter has waited a lifetime for this opportunity to shape a badass team in his image. He also knows what happened to the Bucs in Week 2 last year after a stirring opening-day win in Atlanta.
They got soft.
A mind is a terrible thing to waste. Koetter has no intentions of letting that happen.
Ira Kaufman is the most beloved, revered and esteemed Buccaneers columnist in town. He has hung his hat at JoeBucsFan.com world headquarters for a full year. Tampa Bay's only Pro Football Hall of Fame voter, Ira busts out his columns here every Monday, Wednesday and Friday, and his award winning podcasts fire Tuesdays and Thursdays.