Joe Buck Talks To Joe
July 26th, 2017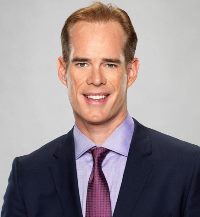 Joe is cleaning out his voice recorder as we inch toward the start of training camp. Today, Joe brings the words of FOX Sports broadcaster Joe Buck.
Yes, the son of famed sportscaster Jack Buck — who Joe grew up listening to — has carved out his own name as the national voice for the NFL and Major League Baseball on FOX. Buck was mobbed by reporters when Joe caught up to him, and he was kind enough to field a question from Joe, in the mass of humanity, about America's Quarterback, Pro Bowler Jameis Winston.
JoeBucsFan: The few times you covered a Bucs game before Jameis arrived, how much of a chore was it to know you would be calling a game in which the Bucs had garbage at quarterback compared to now when they actually have a quarterback?

Joe Buck: Well, I think we all know in this league, you cannot win without a quarterback, meaning you can't win without a good quarterback. I mean, you can see what the Houston Texans paid for Brock Osweiler [and then let go]. With the market that will be out there for a quarterback like Jimmy Garoppolo, quarterbacks are hard to find so it seems like – I don't know him at all – but it seems like whatever troubles [Jameis] had in college, he's grown up. And it seems like as good as his talent is on the field, he has also become a vocal leader. I don't like the quarterbacks that are shrinking violets and seem like they have no fire. That is one of the cool things about [Tom] Brady, after all of this winning, you can catch him on the sideline ripping his helmet off and screaming on the sideline. I love that! I think it sends a message that this guy cares and if Tom Brady cares, then the backup linebacker better care. And so I think that's what you have now in [Jameis] and that is a valuable – invaluable – piece of property.
As a favor to Buck, Joe thought he would plug his book, "Lucky Bastard," available on iTunes.
Buck's book is a look inside broadcasting, both the seedy and noble sides. Good people and creeps. Oh, and his dad, Jack Buck, had a squeaky clean public image in St. Louis. In real life, however, his lifestyle was anything but, which is how the book got its title if you get the drift.
You can listen to Buck's interview on the Howard Stern Show earlier this year to hear some juicy tidbits featured in the book (yes, Joe bought and read the book).