"He Knows Most Everything"
June 28th, 2017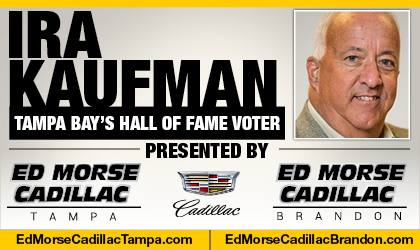 Ira Kaufman, the most beloved and esteemed columnist in town, has hung his hat at JoeBucsFan.com world headquarters since July 2016. Tampa Bay's only Pro Football Hall of Fame voter, Ira's columns pop here every Monday, Wednesday and Friday, and his award winning podcasts fire Tuesdays and Thursdays.
BY IRA KAUFMAN
It appears the Glazers have found stability where it counts the most.
Although he's been an NFL head coach for only one season, Dirk Koetter has the look of someone will be around One Buc Place for quite a while.
That would set Koetter distinctly apart from predecessors Raheem Morris, Greg Schiano and Lovie Smith — an unholy trio who lasted a combined seven seasons.
Since Tony Dungy's six years in Tampa and Jon Gruden's seven-year reign, the Bucs have given their head coaches a rather short leash to turn the franchise around.
So here stands Koetter, who almost led Tampa Bay to a playoff berth in 2016, working in lock-step with GM Jason Licht. Koetter made his share of mistakes last year, on and off the field, but he also proved to be a quick learner who earned the respect of his players for a candid approach.
Professional athletes covet honesty, and Koetter delivers every day of the week — and twice on Sunday.
The son of a football coach, Koetter paid his dues as offensive coordinator in Jacksonville and Atlanta before joining the Bucs and promptly overseeing the most productive offense in franchise history in 2015.
"There's 32 of these jobs in the world," Koetter said when he was promoted to head coach 17 months ago. "I know I can do the job."
One season doesn't make a legacy and the NFL coaching suite is riddled with one-hit wonders.
Remember Tony Sparano? That's Sparano, not Soprano.
As a first-year head coach, Sparano led the 2008 Dolphins to an 11-5 mark, finishing one vote behind Mike Smith in balloting for NFL Coach of the Year.
Fame proved fleeting, however, for Mr. Sparano. He didn't make it through the 2011 season after losing 27 of his next 45 games.
You'd think the Glazers have had their fill of turnstile coaching changes. Dumping Morris, Schiano and Smith so quickly represented a brutal admission that they got it wrong repeatedly when selecting the man on the throne.
They're not in the mood to turn on Koetter, unless the walls cave in.
"Dirk Koetter has paid his dues at every level of football," says ESPN analyst Ron Jaworski. "You see guys who become head coaches, then change their personality. Those are the guys that don't tend to last very long in the job. I can't see that happening to Dirk. He's a man who is very comfortable in his own skin."
Marvin Lewis, a close friend to Koetter dating back to their Idaho State days, is the second-longest tenured NFL coach behind Bill Belichick.
He knows a little about survival in the fast lane.
"It's hard to tell Dirk anything, he knows most everything," Lewis says. "Dirk's been a head coach before, so he knows the trials and tribulations. He was a head coach in high school. He was a head coach at a couple universities, so he understands."
When the Bucs named Koetter head coach, Gruden labeled him "one of the best-kept secrets in football."
Guess what? The secret's out. And now, for the first time in his NFL head coaching career, Koetter faces the challenge of raised expectations.
If you're worried about Koetter's self-confidence, don't bother. He knows the kind of talent Licht has assembled and he can't wait to see what the 2017 Bucs can do for an encore.
Koetter's hearty embrace of the Stick Carriers is a sign that he doesn't intend to be aloof from Buc fans. He's asking for their support, knowing that request means he's got to play his part by delivering on the scoreboard.
Even Koetter's harshest critics have to face the facts — he looks like a keeper.