Ryan Russell On The Brain
May 21st, 2017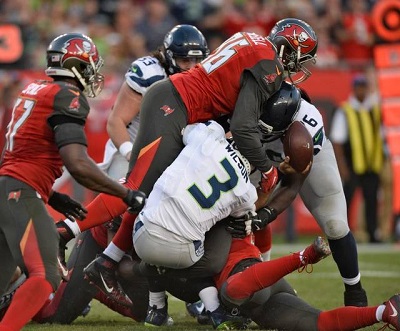 It was kind of like "Marsha, Marsha, Marsha" at One Buc Palace last week.
Assistant coaches were available to the media and defensive line coach Jay Hayes talked and talked and talked. What an accommodating dude.
Joe listened to a chunk of the Hayes chatter and asked a few questions. But what really stuck out most to Joe was how many times Hayes referenced defensive end Ryan Russell. Man, Hayes is high on this guy.
Russell joined the Bucs last year after getting booted from the Cowboys. Out of Purdue, Russell was a fifth-round pick of Dallas in 2015. The Bucs signed him to their practice squad last fall and he was promoted to the roster for the second-half of the season. Russell finished with one sack and four tackles.
At 6-4, 270 pounds, Russell certainly has the body and his speed was there coming out of college. However, it's quite a red flag when the Cowboys defensive coordinator and D-line guru Rod Marinelli give up on you.
Perhaps the Bucs believe they have developed Russell and he's turning a corner in his career?
If Russell can turn into a savage-effort guy, then Joe almost sees Russell as a Tim Crowder type (for those whose Bucs recall goes back seven years), and that's not a negative comparison.