"The King Of Hustle" Crushes With Two Sacks
September 19th, 2010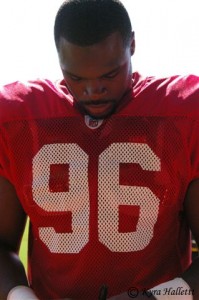 Joe's fired up for defensive end Tim Crowder, who Joe was lobbying hard for in the preseason.
Turning in his typical high-motor performance today, Crowder grabbed two sacks, one which led to the key Matt Moore fumble and turnover in the fourth quarter. On that play, Crowder was rushing off left end and Kyle Moore, who recovered the fumble, had moved to rush inside.
Crowder also had the final tackle on the Bucs' late goal line stand.
During one of his daily news conferences last week, Raheem Morris called Crowder "The King of Hustle."
A "Jim Bates guy," the Bucs snatched up Crowder last September after he was cut by the Broncos, where he had a strong rookie season in 2007 under Bates.
Again, Morris plays the right card keeping Michael Bennett inactive.