Dotson Could Be Casualty In O-Line Shakeup
April 4th, 2017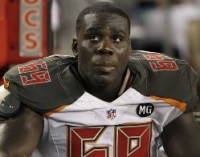 So Dirk Koetter made it clear last week that Ali Marpet will move to center and get every shot to be the Bucs starter there for years to come.
Demar Dotson should be very nervous.
Yes, Dotson plays right tackle, and some Bucs fans think he's a star. However, what if Marpet struggles at center and the Red Sea parts  and J.R. Sweezy actually stays healthy and looks good at right guard?
There's no way Marpet gets benched if he can't transition well to center. He would move back to guard and Evan Smith or Joe Hawley would take over at starting center.
But what about Sweezy? After the nearly $15 million invested in him, Joe feels comfortable saying there's not a chance in hell he gets benched, if he's healthy and looking good through the summer.
So if Sweezy and Marpet are at guard, that leaves a choice between Kevin Pamphile and Demar Dotson at right tackle.
Simply stated, if versatile and talented 26-year-old Pamphile gets benched in his contract year, then it's likely he walks in free agency next season. That would be a needless and terrible loss by the Bucs. Remember, Pamphile played well as a fill-in starter at right tackle last season, and he entered the NFL as a tackle back in 2014.
Dotson, who turns 32 in October, should be the biggest Marpet cheerleader for Marpet at center. If Marpet can't get it done there, then Dotson's career could be in trouble.